Intraday Market Thoughts
DAX Boxed in by Draghi
The before-and-after DAX30 charts from Monday and today highlight the straightforward nature of technical formations in translating into anticipated outcomes. You may recall we posted this as our Monday mystery chart and issued it as a short for our Premium subscribers to enter at 12550 and exit today at 12205. Other index trades are kept open into the weekend alongside 2 FX and 2 metals trades.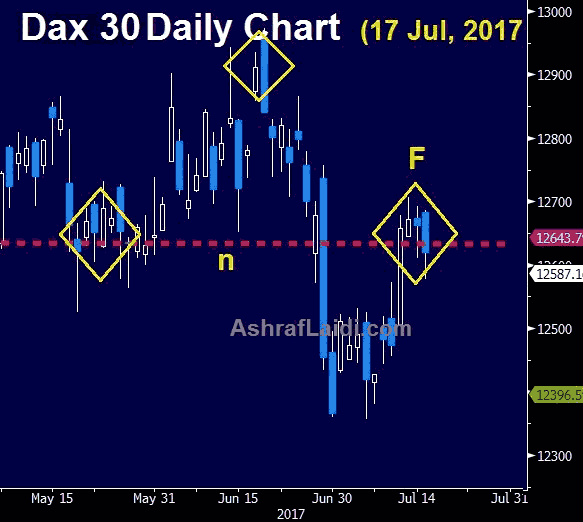 DAX30 is set to complete its 2nd monthly decline after an uninterrupted 6-month rally, which was the longest since the June 2012-Jan 2013 advance, following the Italy/Spain debt resolution of summer 2012. The ECB's inevitable start of effective tapering (not meaningless tapering seen in March when duration was extended and size curtailed) is boosting the euro and dragging German and European equities.
The argument that any ECB tapering would not hurt stocks on the grounds that assets proceeds would be reinvested does make sense, but may not stand to weigh on the euro due to the somewhat converging US-Ezone policy paths. In fact, as long as the tepid performance of hard US data makes no case for H2 Fed hike and German-US 10 year spread breaking above its 6-year trendline resistance, the euro reward tend to be more material than the impact on European indices.
Latest IMTs