Intraday Market Thoughts
Decisions & Fear of Heights
If you suffer from a fear of heights then careful when looking at the daily candle in USDJPY. After holding the long USDJPY Premium trade for over 2 months, we've finally taken profit at 105.45 from the 114.10 entry. The decision to close USDJPY long and allow EURUSD long to run (bought at 1.0540) was made 15 mins before today's NFP report. The decision to do so was about 90% technicals-related and less than 10% related to fundamentals as I had no idea the earnings figures would disappoint (0.2% m/m vs exp 0.3% m/m despite other positives such as falling Unemp rate to 4.8% from 4.7%, 235K NFP vs exp 200K consensus and NFP upward revision). But there's more to this.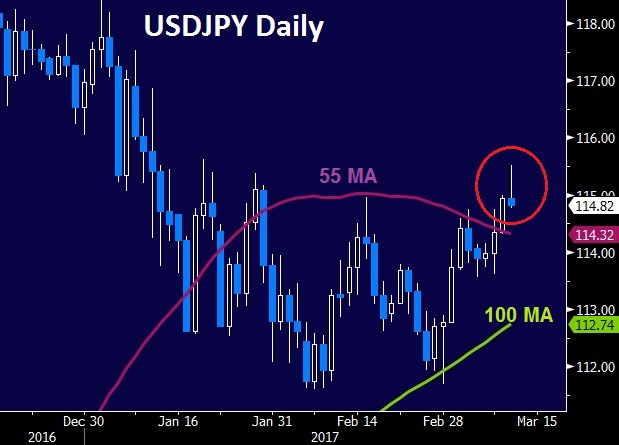 While holding the USDJPY long (bought at 114.10) the position suffered extended unrealised losses (stop was 111), but as I made clear in the last 4-7 weekly Premium videos, the importance of the weekly candle to close at or above 112.40 support (50% fib of the Jun 2015-June 2016 move) that already worked as key support in Feb-Mar 2016) played a major role as it proved a solid foundation on the weekly candles from January to March 2017 (focus on weekly close not intraweek levels). After closing the USDJPY long, today's candle failed at the 50% retracement of the smaller move (Dec to Feb move).
Why I Let EURUSD Long Before NFP
A partial answer is my improved confidence with EURJPY after yesterday's
break above its 55-DMA, which is the synthetic product of long EURUSD and long USDJPY
. Another partial answer is related to the relationship between USDX and USDJPY, which I will explain in next week's
Premium video
ahead of the Fed decision. Meanwhile, yesterday's EURAUD pre-ECB long is 150-pips in the green while both gold and silver longs are left to run at a loss.
Latest IMTs