Intraday Market Thoughts
When Article 50 Hits
A big week looms with the Fed decision and SNB getting top billing on the calendar. But the main source of volatility could be the pound. Reports began to circulate over the weekend suggesting that May is targeting a Tuesday evening speech in Parliament to announce that the Brexit timeline has begun. Meanwhile, Scotland will hold another indpendence referendum, possibly next year. There are 5 Premium trades currently in progress. A new tactical USD trade will be among the trades added as we approach the Fed decision.
Click To Enlarge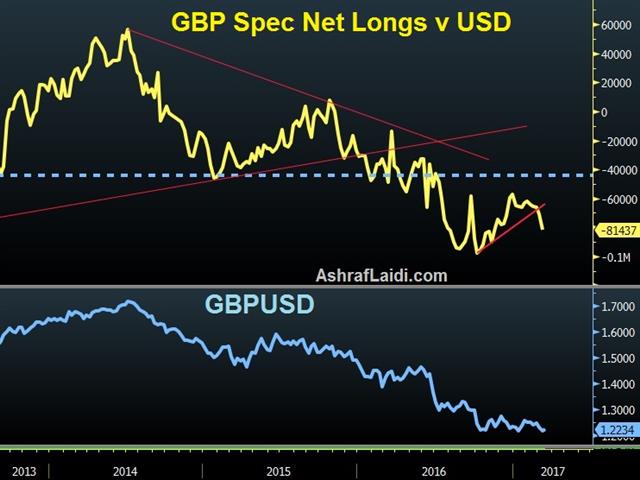 Triggering Artcile 50 is a unique even but it strikes us as one that's dreaded yet, fully anticipated. Part of the market reaction may depend on the finesse of May's delivery and reception abroad, but it's something that should be entirely priced in.
But as Ashraf mentioned last week, any reiteration of the "Take it or Leave it Stance" from May will not play well for sterling.
Like Friday's jobs report, it could be the kind of thing that sparks a reversal once the headlines hit, or after a quick dip. It's not necessarily an easy trade to anticipate but if the pound begins to rally after an initial dip, it's the kind of thing that could turn into an extended squeeze. And dont forget the Fed's impact on GBPUSD.
Commitments of Traders
Speculative net futures trader positions as of the close on Tuesday. Net short denoted by - long by +.
EUR -59K vs -58K prior JPY -54K vs -50K prior GBP -81K vs -66K prior CHF -10K vs -9K prior AUD +51K vs +33K prior CAD +29vs +25K prior NZD -4 vs +3K prior
The two big moves were in GBP and AUD. Specs are clearly betting against the pound in anticipation of Article 50. With the trade already so one-sided, that doesn't leave many sellers for when the announcement hits.
Stepping away from the short term, once in awhile we're reminded of how China has the ability to change the world with a virtual wave of the hand of the leadership. The China Daily reports today on plans to build 40,000 football primary and secondary schools by 2020 and train more than 200,000 coaches in the sport. Those are mind-boggling numbers.
Those same sorts of investments are happening all over the business landscape and a reminder that while developed countries are battling for another 0.5 pp of GDP, China is boldly plotting for total dominance. There will be waste, no doubt, but that kind of ambition filters down everyone in the country.
Latest IMTs