Intraday Market Thoughts
Dollar Days Are Back
The FOMC Minutes shook up sleepy June hike expectations and set the stage for a far-more-interesting month ahead. The US dollar jumped on the headlines but GBP was still the top performer on the day. Japanese machine orders and the Australian employment report are due later. Both Premium trades in GBPCAD and GBPJPY were stopped out. A new Premium trade was added ahead of the FOMC minutes.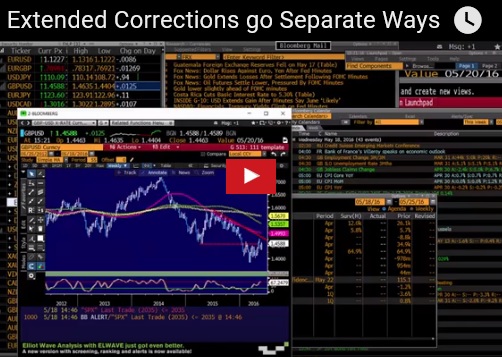 The FOMC Minutes are often the most over-hyped release on the calendar but once in a while they rock markets and that was the case Wednesday. The dollar had been under steady pressure and was at session lows moments before the release but it rocketed higher afterwards. The minutes said most Fed members want to hike if growth, inflation and jobs all make progress before the June 15 meeting. In the Fed funds futures market, that sent the implied probability of a hike up to 32% from 14% (and from 4% at the start of the week). The US dollar gained 70-130 pips across the board in the aftermath of the release.
Speeches on Thursday from key FOMC members Dudley and Fischer are now top-tier events and economic data between now and the dollar will be sensitive to every data release.
One line of thinking is that the Fed can't hike ahead of the Brexit vote but the risks there appear to be diminishing. The latest polls show the 'remain' side further ahead than ever and bookies have lengthened the odds of Britain leaving to 4-to-1.
In other central bank news, the chance of an RBA cut in June has fallen to 16% from 25% a week ago. That's after the RBA minutes showed a close call in April. The thinking is that Stevens will wait-and-see rather than moving again but that could quickly change with the release of the April jobs report at 0130 GMT. The consensus is for 12K new jobs and the unemployment rate ticking to 5.8% from 5.7%. As always, watch the full/part-time breakdown.
Technically, the drop in AUD/USD Wednesday led to the first close below the 200-day moving average since March 2. The 61.8% retracement of the Jan-April rally is just below at 0.7213.
The other event on the calendar is the 2350 GMT release of Japanese machine order for March. The strong GDP report yesterday pushes back the BOJ timeline for more stimulus. A press report also said that Abe won't consider delaying the consumption tax increase until after July Upper House elections.
Latest IMTs