Intraday Market Thoughts
Emotion Takes Over
Emotion is in the streets and the markets, raising that
question again here.
The kiwi was the runaway top performer last week while the yen was the laggard. Today, gold and silver are the biggest gainers vs USD, while GBP is the biggest loser amid more UK-EU dissent on Brexit. The Fed and Congress will be spots to watch this week.
Click To Enlarge

Emotion is in the streets and it's in the market. Protests raged around the world on the weekend but markets are anything but angry – they're borderline euphoric about the re-opening along with the cheap-and-easy money trade. The shift to greed from fear has been remarkable and reflects a world in complete flux.
Fundamentals made a foray into the equation on Friday as the US added 2.5m jobs compared to -7.5m expected. That sent the risk trade into overdrive with the S&P 500 up 2.6% and extended the breakout in 10-year Treasury yields to 0.95%.
In FX, examples of the euphoria in markets include the nine-day rally in the euro that finally ended on Friday. The kiwi is in the midst of a seven-day rally.
At times like this, you hope to find a trend and hang on for dear life, because everything overshoots. The amplified emotions amplify market moves.
Even hedge fund giant Stanley Druckenmiller, who said two weeks ago the market divergence from fundamentals was one of the highest he's ever seen, said today he his humbled by the Fed's efforts to lift the market.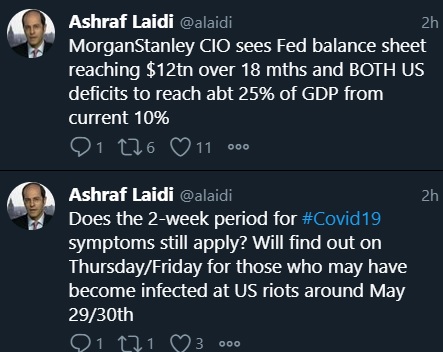 What could end it? Certainly everyone is looking for bad news from the virus as a potential catalyst. In the near-term, the Fed meeting Wednesday is a risk. Any sign that the cheap-money party will ever end would be met with some negativity – at least momentarily. Congress and stimulus are in focus too with the latest report citing Mitch McConnell saying it could be less than $1 trillion. That's still a remarkable number at any time in history but it's far enough under the $3.5T package the House passed to tee up some jitters.
For now, the party continues. As former Citi CEO Chuck Prince famously said, "As long as the music is playing, you've got to get up and dance."
CFTC Commitments of Traders
Speculative net futures trader positions as of the close on Tuesday. Net short denoted by - long by +.EUR +81K vs +75K prior GBP -36K vs -22K prior JPY +33K vs +35K prior CHF +9K vs +9K prior CAD -33K vs -34K prior AUD -41K vs -40K prior NZD -13K vs -15K prior
Latest IMTs