Intraday Market Thoughts
Stocks Jump, Yields Soar on Jobs, ECB, Corona Narrative
Thursday's bond yield break out was joined by broad and intense rallies in indices after jobs reports in the US and Canada showed an unexpected advance in net employment in May. US 10-year yield jumps 43% for the week, its biggest rise on record and double the previous record rise seen in March. DOW30 shot-up more than 3% to break further away from its 200-DMA, while Nasdaq pushed to new highs, stopping us out. The US dollar extended its longest losing streak in three years and EURUSD extended its biggest divergence from the 200-DMA in over 3 months.
Click To Enlarge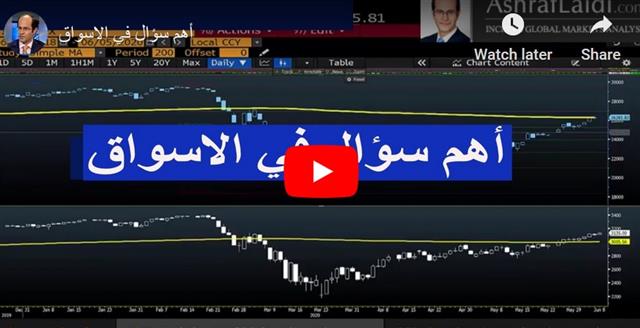 The new wave of buying intensified in Friday's Asia session on a combination of the ECB's decision to add a higher than expected €600 billion in stimulus, oil extending rally near $40 and news of zero increase in NY Corona cases for the first time since March. Let's look at some trading questions below.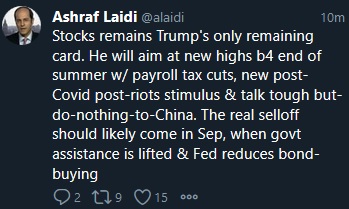 In the US, the bond market painted a positive picture in a different way as 10-year yields rose to the highest since late March. In that case, it's a sign of dwindling demand for safety as the market continues to look past the virus and towards heavy government spending and ultra-low interest rates for longer. Given that the Nasdaq hit a record high, the trade has already run a great deal in the US but that's not the case in emerging markets and parts of Europe. That paradigm continues to draw dollars out of the US.
Trading Questions
The question I raised in this week's English and Arabic videos as to whether S&P500 and DOW30 will regain their February highs has been largely answered according to the last 90 years. This now helps us figure out whether sell EURUSD for the 1.10s, or wait for further pullbacks to buy for higher targets. Gold traders watch the 1677 support and bonds fixated on the 100-DMA at 1.01%, with the highest daily RSI since October 2018.
Latest IMTs