Intraday Market Thoughts
Fed Confirms No Hikes
The message confirmed from the FOMC there will not be any rate hike rates this year ... unless there is a shocking surprise in growth. The other key development is the Fed announcement to halt the process of uwinding its balance sheet by end of September. The US dollar slumped after the Fed statement, taking out some important levels, especially as the 10-year yield posted its biggest daily decline since May 2018. Aussie is up further on an unexpected decline in the jobless rate. The Premium EURUSD short was closed for 220 pip gain, while 8 of the remaining 9 trades are in the green.
Click To Enlarge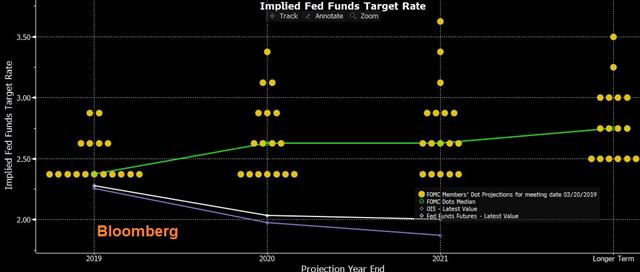 The Federal Reserve delivered a dovish surprise that sent the US dollar sharply lower. The chatter before the announcement was that the Fed would keep a rate hike this year on the table but the dot plot median scratched both 2019 hikes while leaving only one in 2020.
That sparked a first leg of USD selling. The second wave of USD selling emerged in the press conference. A dovish shift based on soft growth abroad, especially in China and Europe, along with tariff risks wouldn't have been a huge surprise. Powell certainly highlighted that, but he also spoke about US-centric risks including a slowdown in business investment and consumer spending. That was a more morose outlook than anticipated and sent the dollar to the lows of the day.
As the US dollar sank it broke some notable levels. EUR/USD rose above the late-Feb top to the highest level since Feb 3. The kiwi also broke the late-Feb high and is now flirting with the best levels of the year. USD/JPY fell to a three-week low.
Perhaps the most-notable was WTI crude oil as it rallied above $60 and the 50% retracement of the Q4 breakdown. Crude was also lifted by a surprise drawdown in US weekly inventories. The Premium long in US oil at 54 remains open.
In Asia-Pacific trading, the kiwi gave back some of its gains on a report showing Q4 y/y growth at 2.3% compared to 2.5% expected. Calls for an RBNZ rate hike continue to grow louder.
In Australia talk of an RBA rate cut softened after the Feb jobless rate fell unexpectedly to 4.9% from 5.0%, while employment rose to 4.6K vs exp 15K and previous 38K.
Act
Exp
Prev
GMT
Employment Change
4.6K
14.8K
38.3K
Mar 21 0:30
Latest IMTs