Intraday Market Thoughts
Fed Courts Battle of Wills with Markets
The Fed remains strangely open to the idea of hiking rates in September despite turmoil in markets. The US dollar climbed and stocks fell late Friday after the Fed's Fischer left liftoff on the table. On the week, the yen was the top performer while the kiwi lagged.
Click To Enlarge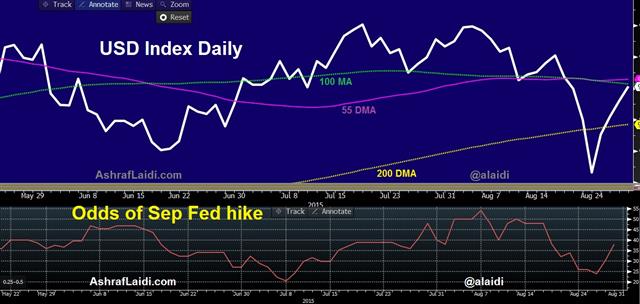 Risk assets and the US dollar face a conundrum in the coming weeks: If sentiment improves it makes a rate hike more likely, but as a rate hike grows more likely, market risks mount. The Fed's Fischer partially brushed aside the market rout this week in surprisingly hawkish comments Friday.
Fisher's Keeps September Suspense
Fischer said the case for a hike was "pretty strong" before the recent round of volatility and also indicated that markets could settle quickly. He also said China was the trigger for the market moves, which shows a belief that markets aren't concerned about US growth. Overall, he emphasized that no decision was made but his comments perhaps suggest he believes the probability is higher than the 30% implied in markets. That gave the US dollar a boost and weighed on stock markets. The risks are skewed toward more of the same.
Another thing that Fisched added was that the Fed doesn't fully understand market volatility anf that it volatility does affect the timing of rate hike.
We will be carefully watching the final hour of trading today. Massive volatility has been the case every day this week and month-end flows are factor now as well.
Another standout factor Friday is oil. WTI crude climbed another $3 to bring the cumulative gain from this week's lows to 21% in a remarkable bounce. What's less remarkable is how the Canadian dollar has failed to respond. USD/CAD is poised to finish the week 50 pips higher despite oil. If CAD can't rebound on oil, can it rally at all?
Latest IMTs