Intraday Market Thoughts
How Soon is 'Fairly Soon'?
A weak durable goods report and comments from the Fed's Powell offered some insight into what the Fed will do next. CAD and JPY were the top performers, while the pound sterling lagged. Japanese CPI and Aussie Capex are due next.The April US durable goods report highlighted the challenges the Fed faces. There are currently 9 Premium trades in progress, 2 of which are CAD longs.
Click To Enlarge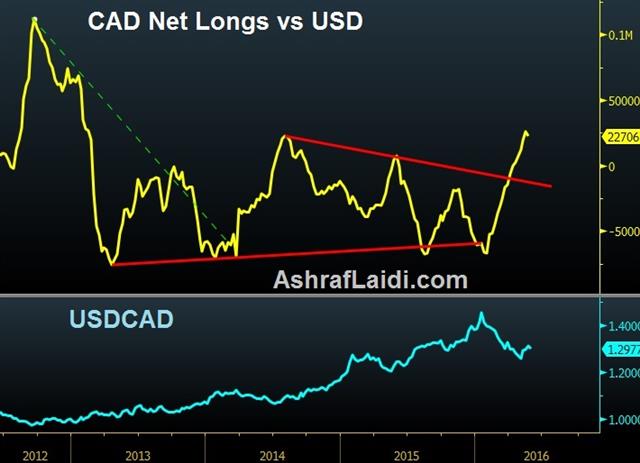 Headline orders jumped 3.4% compared to 0.5% expected that was due to a 65% jump in aircraft orders. The strong number will help to boost growth but if you strip out airplane and defense orders, they fell 0.8% and are down 8.7% year-over-year.
But durable goods orders have been weak for two years along with factories. The Fed is more focused on jobs and consumer spending. The Fed's Powell certainly had some reservations about the economy in a rare speech on the outlook but he said a hike would be appropriate 'fairly soon' if data evolves as expected.
He highlighted a desire to see better Q2 growth numbers and risks from the Brexit so that probably eliminates the June 15 FOMC but a hike before October is increasingly likely. The market is only pricing a 60% chance of a hike in September or sooner so that leaves plenty of room for US dollar gains.
In the interim, economic data is critical. US pending home sales rose 5.1% in April compared to 0.6% expected to extend a streak of strong housing data. The Atlanta Fed now sees Q2 GDP running at 2.9%, a pace that's likely strong enough to give the Fed the confidence to hike.
In the broader picture, markets are sending divergent signals. Oil touched above $50 before sagging back to $49.40 but it's debatable whether that's a signal on short-term supply disruptions or global demand. The stock market has shown no fear of a rate hike this week and is back to within striking distance of all-time highs. Bonds haven't budged with US 10-year yields at 1.82%, which is at the middle of the range since February.
In Japan, more reports are confirming that Abe will delay the 2 percentage point hike in the consumption tax scheduled for next April. An announcement is rumored for Wednesday.
We haven't heard a good explanation for the quick 50 pip drop in USD/JPY on Thursday but it never really recovered. The 2330 GMT report on the April CPI could jar the market further. The consensus is for a 0.4% decline y/y but a 0.7% rise ex-food and energy. A sizeable miss could spark speculation about another BOJ move.
Act
Exp
Prev
GMT
Durable Orders (APR)
3.4%
0.6%
1.9%
May 26 12:30
Durable Orders , ex-transportation (APR)
0.4%
0.5%
0.1%
May 26 12:30
Pending Home Sales (APR)
5.1%
0.6%
1.6%
May 26 14:00
Latest IMTs