Intraday Market Thoughts
How the BOJ Could Surprise
With all the drama surrounding the Fed and the ECB this month, the BOJ was the forgotten central bank. There has been no build-up for today's BOJ decision but that might not be the case for long. The story in Thursday trading was the continued march higher of the US dollar. The Premium short in has been closed, locking int over 200 pips.
Click To Enlarge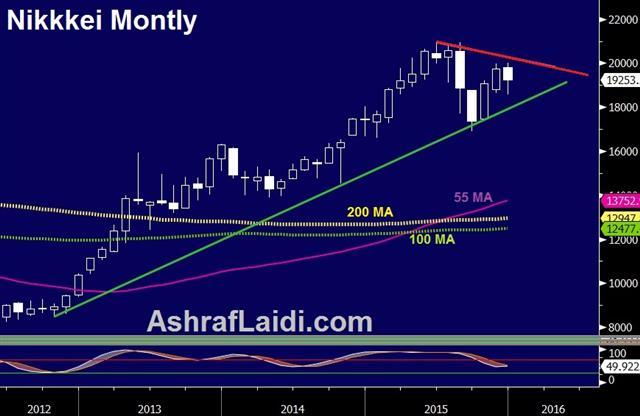 The BoJ decision has no scheduled time but it's likely to be released between 0230 GMT and 0330 GMT with Kuroda's press conference due at 0630 GMT. The rule of thumb is that the later the BOJ announcement, the more likely it is to be more easing.
Analysts have backed away from calls for more QE this year. In October almost half of economists had forecast some kind of easing but it never came and the BOJ has been upbeat about Japan's prospects – especially after the revision higher to Q3 GDP. For today's decision, only one of 42 economists surveyed by Bloomberg forecasts a rise in QE.
The likelihood is extremely low but Kuroda likes to ease by surprise so today would certainly fit the bill. There have been two data points this week that suggest the possibility of a cut: The first was a surprising drop in trade; Imports and exports both badly missed the market in November trade balance report. It's a signal that yen weakness isn't giving manufacturing the boost that Abe had hoped; The second was the Q4 Tankan. The BOJ has been focused on inflation expectations and they deteriorated in the latest survey.
Arguing against easing has been a quiet, but growing skepticism at the BoJ about the effectiveness of QE. Many rounds of asset purchases haven't had the hoped-for outcome and the government has shifted to pressuring companies to hike wages.
The big surprise in 2016 might be that the BOJ turns away from more easing despite a stronger yen, low inflation and a middling economy.
Act
Exp
Prev
GMT
Fed's Lacker speech
Dec 18 18:00
Latest IMTs