Intraday Market Thoughts
No Doubts From Draghi
The euro is the top performer of the day after Draghi's comments yesterday helped the euro higher on Monday as he maintained an upbeat, hawkish tone. Attempts from ECB's Praet to cool off the gains worked temporarily. The pound is also performing strongly today, while the franc is the only loser against the USD.
Click To Enlarge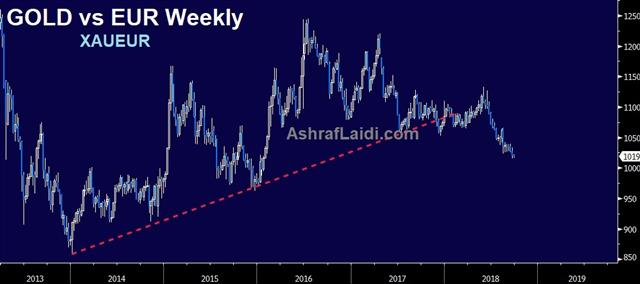 After the ECB decision, reports leaked out that some members of the governing council wanted to downgrade the balance of risks but one of those people certainly wasn't Draghi. In comments in Brussels Monday he said they see a vigorous pickup in underlying inflation and an ongoing, broad-based expansion that vindicates the ECB views.
The comments immediately sent the euro to the highest since June at 1.1815. Yet, news from Draghi's native Italy helped to pull the euro back lower as Italian 10-year yields rose 12 basis points to 2.95% on fears of a larger Italian budget deficit that could destabilize the country's politics or the EU.
The government has until Thursday to unveil a budget package and whether or not it shows a deficit above or below 2% will be a main euro driver. The numbers could be announced at any time and leaks/details could also move the market beforehand. In the bigger picture, the US dollar rebounded Monday and oil rallied 2%. Economic data and news in North American trading remain light.
Wednesday's FOMC rate hike, dot plot and press conference will be the highlight of the week.
Latest IMTs