Intraday Market Thoughts
Thursday's Extension Vote & Oil Trade
Parliament votes this evening to authorize PM May to seek an extension to Article 50. The EU will need to approve it and there are signs they will push back, but FX traders are currently focused on the UK side of the deal. Parliament voted against a no-deal Brexit yesterday and the pound surged in the third day of aggressive swings. GBP is the strongest currency so far this week. What happens next could be even more explosive with talk that the ERG could support May's deal. Better US economic data continued to fuel broader optimism. The Premium GBP trade for subscribers was closed for 160 pips right before yesterday's vote and a new one was filled at the bottom of the subsequent pullback. Details of our existing LONG oil trade entered in Feb are found below-- currently 400 pts in the green.
Click To Enlarge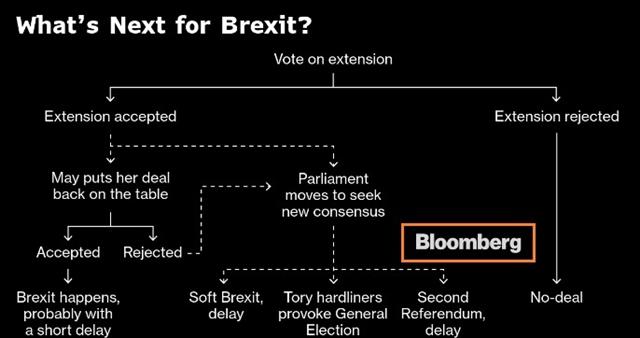 The Brexit drama continued with a more than 300-pip rally in cable on Wednesday as parliament voted against a no deal Brexit. Cable hit the highs on reports that the ERG is now ready to back May in a third meaningful vote next week. The DUP will also hold fresh talks with May. That enthusiasm was tempered somewhat by indications that not all ERG members would switch their votes.
Technically, the break above 1.3350 pushes the pair to the highest since June 2018. A close above that level and especially a weekly close above it would be particularly positive. For full technicals, We will send Ashraf's GBP analysis on Real Vision TV shortly.
Elsewhere, market moves were less dramatic but still meaningful. Both oil and the S&P 500 hit multi-month highs in a sign of renewed optimism. US Crude is at 58.67, with details of Ashraf's oil trade below.
Click To Enlarge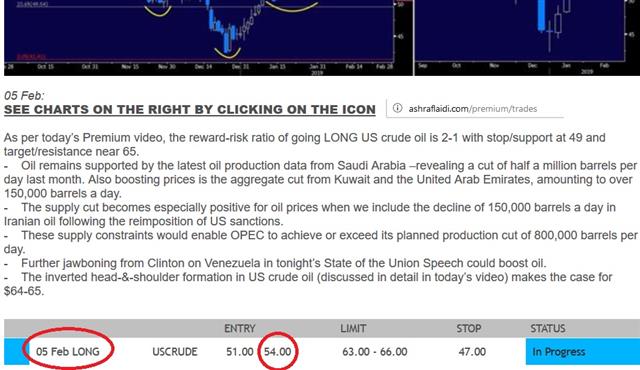 In terms of data, US core capital goods orders rose 0.8% compared to 0.2% expected. Construction spending also climbed 1.3% compared to the 0.5% forecast. Both should push Q1 GDP forecasts higher.
Latest IMTs