Intraday Market Thoughts
Renzi Quits on Italy No, NZ PM Also Quits
Italian voters rejected the government-sponsored constitutional reforms and Prime Minister Renzi made good on his promise to quit if they did. The euro fell 130 pips immediately on the result reaching 1.0501 before bouncing to 1.0580s. Euro technicals from here are critical as it tests the 2015 lows. Gold and silver gapped up before stabilizing but remain firmly higher. In other news, NZ Prime Minister Key also resigned , saying he would stay in parliament long enough to avoid a by-election. NZD is lower across the board. The DAX30 short in the Premium Insights has been closed at 10430 for 240-pt gain.
Click To Enlarge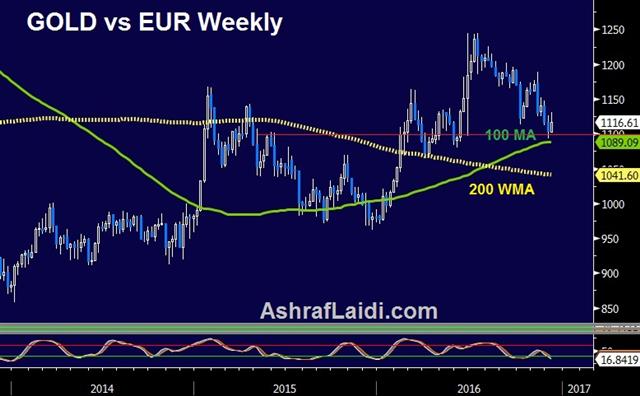 "My government ends here," said Renzi as the result became clear. He will convene cabinet on Monday and hand in his resignation.
That means Italians will likely head to the polls in Q2 or Q3 of 2017 with the anti-establishment five star movement leading in the polls. They promise to hold a referendum on leaving the euro.
The initial market reaction suggests a more wait-and-see view on possibility of a euro breakup but we are watching closely as major levels come into focus. The December 2015 low of 1.0524 was broken in the initial fall to 1.0506 on the headlines before a rebound to 1.00538. If the selling continues as Europe arrives, keep a very close eye on 1.0458. That was the low 2015 and anything below will be the worst since January 2003. Technically, it would also break a double bottom and leave very little support on the chart. Watch out for a run on stops.
We're mindful of the risks of a reversal in the aftermath of the turnaround on US election night. The polls had shown the No side ahead for months as well, so this isn't a big surprise. Italian stock markets also rallies strongly last week despite the pending vote. What's different here is that Renzi resigned and that means Italy will fall into political uncertainty. In the US, the result was a surprise but it was clear and the market likes certainty.
Latest IMTs