Intraday Market Thoughts
EUR Cheers Hollandexit, More Cheers to Come?
The final month of the year has arrived and over the past 16 years, that's led to a familiar pattern. The Canadian dollar was the top performer while the US dollar lagged. Australian retail sales are up next. The Premium trades in oil and GBPUSD were stopped out. A new trade in a US index has been issued, joining 2 existing index trades, which have deepened into green territory.
Click To Enlarge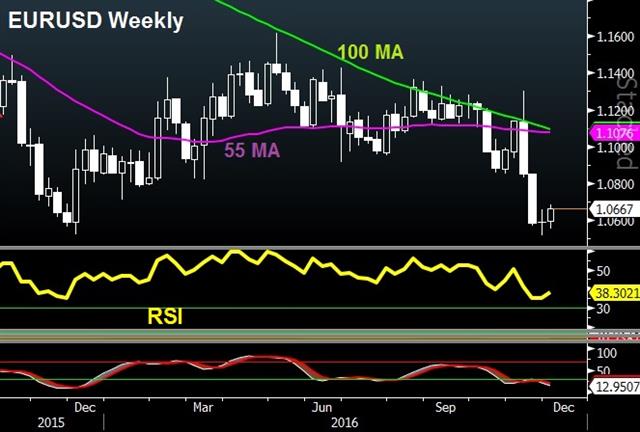 Markets cheering the exit of a world leader is a special kind of slap in the face. But it was one that French President Hollande received on Thursday when he revealed that he won't run for re-election. The euro extended its rally by more than 30 pips to cap off a 70-pip gain and the best close since Nov 16.
The euro is coming off a brutal drop in November as the US dollar surged but one reason for hope is the calendar. Since the euro's inception, December has been easily the best month. It's gained an average of nearly 2%.
Last year the euro bottomed on December 2 at 1.0563 then finished the month 3.26% higher. The triggers then were the ECB and Fed. With both on the calendar and the euro with support below, it's possible we could see a repeat.
Here are some other December seasonal trends:
It's the second-worst month for cable. It's the best month for EUR/GBP longs. AUD/USD often struggles in December. Bonds sag in December. December is the second-best month for the S&P 500.
In the short term, the market will be focused on the Australian dollar and the October retail sales report due at 0030 GMT. The consensus is for a 0.3% rise following the 0.6% jump in September.
Act
Exp
Prev
GMT
Retail Sales (m/m)
0.3%
0.6%
Dec 02 0:30
Latest IMTs