Intraday Market Thoughts
Risk Trades Escalate, Virus Cases Dip Pre Powell
The drift further higher in risk trades continues as China reported fewer new cases once again on Tuesday. USD is off across the board (w/ the exception against JPY) after Fed Chair Powell's prepared remarks hit the wires (see Ashraf's tweets below). More market action could ensue after Powell immerses himself in the Q&A of his testimomy to the House of Reps. GBP resumes gains after UK Q4 GDP came in at 1.1% y/y vs exp 0.8% y/y. One of EURUSD Premium trades was stopped out and a new trade has been posted, backed bu 4 charts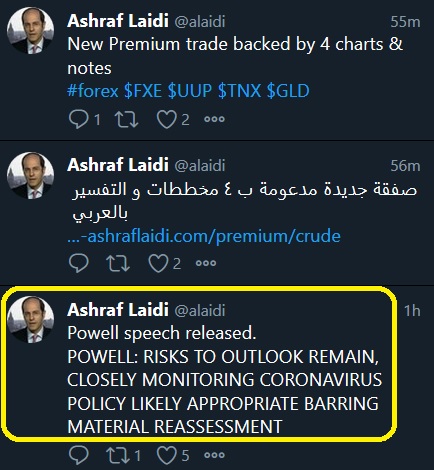 China reported 2,478 coronavirus cases compared to 3,062 a day earlier and that has so far kept risk trades bid. US equities finished with a flourish on Monday with the S&P 500 up 24 points. A red flat continues to be in bonds where Treasury yields fell 3 bps to start the week are now just 4 bps away from 1.50%.
One way to square the divergence is the expectation that the Fed will stay lower for longer and that all global central banks and governments will stimulate in the face of any kind of slowdown. It's the same one-way bet that has kept risk trades bid for months.
If the coronavirus fizzles it will be one of the great achievements in public health history. We're months away from the all-clear but AUD/USD presents significant value if there is a quick turnaround. It probed through 0.6700 last week to financial-crisis lows but has rebounded back above.
Here is what happened the last time Powell spoke 11 days ago.
Latest IMTs