Intraday Market Thoughts
Virus Inflection Point
China has taken unprecedented steps to halt what surely would have been a global pandemic and in the next week or two, we will find out if they have worked. Markets are rallying on reports that FoxConn has received approval to re-open its plan in Schenzen and other versions of the story specified that iPhone production will resume in select regions. The chart below suggests that markets may also be starting to focus on the slowing pace of the virus than the aboslute numbers. Higher China CPI to start the week sparked some worries about PBOC ammunition. Fed chair Powell will testify to Congress on Wednesday and Thursday.
Click To Enlarge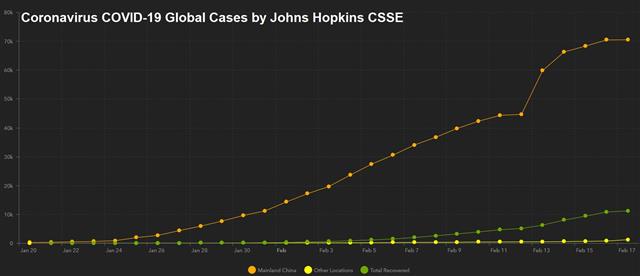 As coronavirus case hit 40,000 and deaths surpass SARS, the market remains on razor's edge. Incredible, if not draconian, measures by Chinese officials have slowed the pace of new cases, or at least reported cases. Yet as we learn more about the virus and some parts of China head back to work, there is plenty to worry about.
New daily cases have leveled off around 3000 in recent days and that's cause for optimism – so long as you believe the data. Skeptics might conclude that testing capability is strained and that would-be patients may be choosing to stay home rather than risk quarantine and isolation for family members. Rumors are rampant but the market has been trading on official news and hasn't worsened.
The week ahead will be a major test because parts of China's economy will look to restart and because we're now into the incubation window where secondary foreign cases are possible. One area to watch particularly closely is Indonesia. All its neighbours have cases and travel patterns show there should be some there yet there are still zero confirmed cases and traveler screening has been minimal.
Recovery and countermeasures
Nervousness re-emerged from the World Health Organization on concerns over the spread of the virus those with no travel history to China. But reports from the central govt announcing it will
spend over $10 billion to contain the outbreak have helped stemmed an initial selloff in Chinese markets.
The PBOC is also said to start injecting the first part of re-lending facilities to banks later this month, targeting nine major banks in 10 provinces and cities.
CFTC Commitments of Traders
Speculative net futures trader positions as of the close on Tuesday. Net short denoted by - long by +.
EUR -75K vs -59K prior GBP +13K vs +18K prior JPY -21K vs -36K prior CHF +5K vs +3.5 prior CAD +19K vs +35K prior AUD -43K vs -27K prior NZD -2K vs +2K prior
Latest IMTs