Intraday Market Thoughts
Two Reasons For USD Strength
Politics in markets are overrated but it's now six weeks until the US election and with the Fed sidelined and the first debate due Monday, it's time to take a closer look. The dollar was generally soft Thursday but the Swiss franc was the top performer while the yen lagged. The Japanese manufacturing PMI is due next.
The two reasons for USD strength are Hillary Clinton and Donald Trump. Oddsmakers give Clinton about a 65% chance to win but Trump has closed in the polls. In this environment, there is no telling what will happen but one theme permeates from both candidates – spending.
Click To Enlarge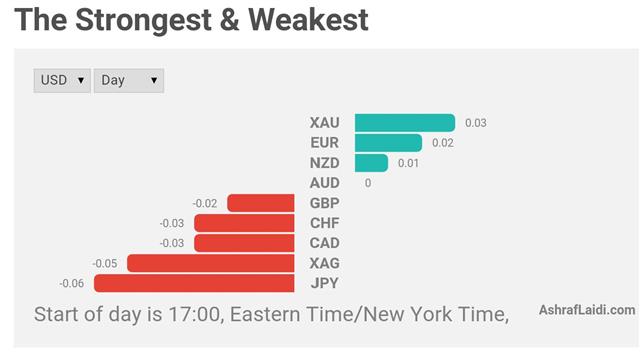 The era of fiscal discipline is over in most countries but a divided government in the US has led to a standstill. No matter what happens on Nov 8, the winner will is likely to be handed a window to govern. Despite the usual chatter from the fiscal hawks, expect looser purse strings in 2017 and that's an upside risk to growth and inflation projections.
In the short-term, however, the election isn't yet a main market driver. On Thursday, initial jobless claims were at 252K compared to 261K expected but existing home sales were soft at 5.33m versus the 5.45m consensus.
The mode in markets remained 'buy everything' with stocks, bonds and commodities all picking up where they left off after the FOMC decision. The dollar slipped for most of the day but found a bid later and rebounded a half-cent against the euro. Keep a close eye on yields for a signal about what's coming next.
The economic calendar focuses on Japan as the Asia-Pacific week winds down. At 0030 GMT the Nikkei PMI for Sept is due. The August reading was 49.5. The all-industry index is also on the schedule and forecast to rise 0.2%.
8 Premium trades
are currently in progress; 5 in FX, 2 metals and 1 in an index.
Act
Exp
Prev
GMT
Flash Manufacturing PMI
52.1
52.0
Sep 23 13:45
Eurozone Flash PMI Manufacturing
51.5
51.7
Sep 23 8:00
All Industries Activity (m/m)
0.2%
1.0%
Sep 23 4:30
Unemployment Claims
252K
261K
260K
Sep 22 12:30
Latest IMTs