Intraday Market Thoughts
USD Slumps on Republican Infighting
Over $24 bn has been wiped off the FTSE100 and Dow Jones 30 as the indices head for their longest losing streak in over 6 years. Market took the failure of US healthcare reform in stride on Friday but is having second thoughts early in the new trading week as the finger-pointing escalates. The yen was the top performer last week while the Australian dollar lagged. CFTC positioning showed heavy euro short-covering. The long EURCAD Premium trade was closed at 1.4555 for a 205-pip gain until consideration for a renewed entry later in the week.
Click To Enlarge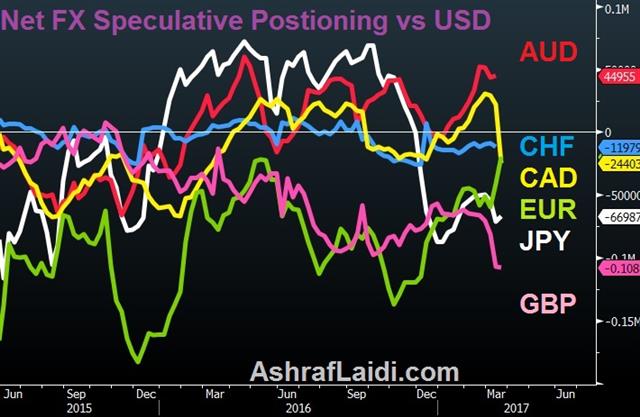 Healthcare reform wasn't the backbone of the post-election rally. What made the market salivate was the promise of tax cuts and deregulation.
So initially when Republican support for healthcare reform came unglued on Friday, it didn't necessarily put the post-election agenda in jeopardy. But some time to digest and a tweet on Sunday from Trump blaming factions of his own party have sparked a serious case of indigestion at the weekly market open.
The US dollar lost around a half-cent in early trading. USD/JPY is testing last week's lows but the main technical break is in EUR/USD is at breaks above the February high to the best levels of 2017. The euro built on its gap-up in Monday Asia triggered by Angela Merkel's election win in Saarland, a pivotal state for upcoming Federal elections.
What's important to watch now is how Republicans handle the fall out. If different factions of the party begin to turn on each other, expect more worries to wash over markets and the US dollar.
Commitments of Traders
Speculative net futures trader positions as of the close on Tuesday. Net short denoted by - long by +.
EUR -20K vs -41K prior JPY -67K vs -71K prior GBP -108K vs -107K prior CHF -12K vs -9K prior AUD +45K vs +43K prior CAD +24K vs +21K prior NZD -12K vs -6K prior
In the past two weeks, the euro net short has been pared down from -58K as speculators give up on EUR/USD parity for now. Continued talk about less-dovish policy from the ECB is another factor. We've been noting the huge increases in cable shorts in the prior two weeks. Specs are no longer adding but many are underwater given that half the position was added in the past three weeks.
Latest IMTs