Intraday Market Thoughts
Yellen Still a Dove
A Friday speech from Janet Yellen didn't offer any hints on a December hike but it underscored that rates will be very slow to move higher so long as she leads the Fed. The Canadian dollar was the top performer last week while the pound sterling lagged. Yen longs were scaled back in the weekly CFTC report. On Friday, we took profit in our AUDNZD trade and were stopped out in our long EURCAD (before the latter rebounded on oil's decline). There are 11 Premium trades currently open, 6 in currencies. 2 in metals, 1 in energy, 2 in equity indices.
Click To Enlarge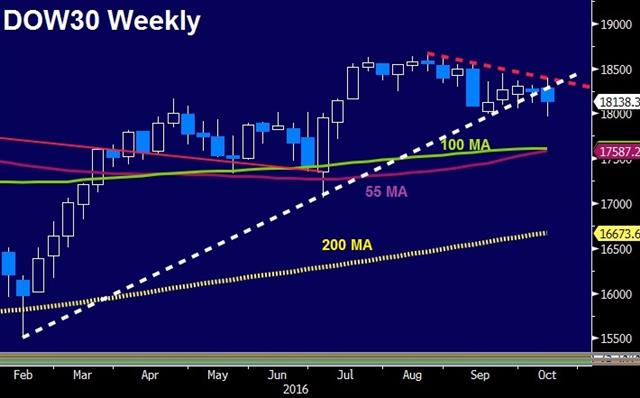 Early-week moves in the forex market are minimal after most major markets finished Friday close to flat. The key metric in the US retail sales report was the control group and it rose 0.1% compared to +0.4% expected. Today starts with Eurozone CPI and US industrial production.
Yellen's speech on Friday underscored a growing Fed admission: Confusion. She highlighted that the relationship of inflation to the jobs market is weaker than historically but it isn't clear why. It was generally a theoretical speech but she said that the ideal policy may be to stay extra-accommodative in recoveries.
Her comments highlight the uncertainty about the path of rates in 2017 if the Fed hikes. The FOMC started out 2016 forecasting four hikes and it will likely settle for one. Next year, Yellen is likely to chart a more-cautious path.
On the weekend, the Japanese press highlighted that the BOJ is likely to downgrade its inflation forecast at the Nov 1 meeting. What's not clear is what tools the BOJ could deploy next to counteract it.
Commitments of Traders
Speculative net futures trader positions as of the close on Tuesday. Net short denoted by - long by +.
EUR -93K vs -82K prior JPY +46K vs +69K prior GBP -95K vs -98K prior CHF -9K vs -3K prior AUD +26K vs +24K prior CAD -12K vs -14K prior NZD -8K vs -8K prior
Yen longs were scaled back, likely in a slow reaction to the break to the highest levels since late July in USD/JPY. The push higher in Treasury rates is an under-reported factor and chatter about a reverse Operation Twist will add fuel to the trade.
Act
Exp
Prev
GMT
FOMC's Fischer Speaks
Oct 17 16:15
RBA Gov Lowe Speaks
Oct 17 21:10
Eurozone ECB President Draghi Speaks
Oct 17 17:35
CPI (q/q)
0.0%
0.4%
Oct 17 21:45
Eurozone Final CPI (y/y) [F]
0.4%
0.4%
Oct 17 9:00
Industrial Production (m/m)
1.3%
1.5%
1.5%
Oct 17 4:30
Latest IMTs