Intraday Market Thoughts
Brexit Worries in a Big Week
The Fed, SNB and BOJ are on the calendar this week but the big story remains the Brexit vote. The pound was hammered Friday and was the laggard on the week as polls showed momentum for the 'leave' side; the kiwi led the way. Weekly CFTC positioning data showed a flight to the yen. On Friday, the Premium GBPUSD short was stopped out, while GBPJPY short was closed for a 350-pip gain and this evening, the DAX30 short was shut at 9740 (instead of the stated 9310) from the 10150 entry, for 410-pt gain.
Click To Enlarge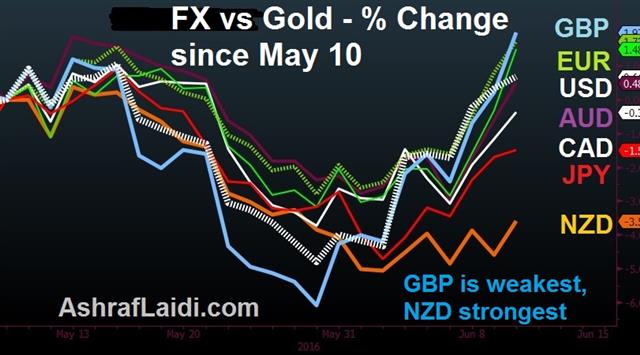 Looking back at the 2014 Scottish referendum, the peak of GBP selling was 8-10 days before the vote. The Brexit vote is in 11 days on June 23.
A poll on Friday showed the leave side at 53% to 47% among decided voters with 15% still unsure. Oddsmakers have shortened odds on a Brexit but still see it as only a 30% chance.
What happened in Scotland was that voters dabbled with the idea of independence about two weeks before the vote but by the time it came to vote, they had second thoughts. At the same time, the undecided voters swung towards familiarity.
It's a similar story in most elections, where incumbents tend to outperform polls.
In the market, it's around two weeks that jittery real-money worries peak but it's not until a week before the vote that speculators attempt to buy the dip.
In the Scotland referendum, the pound rallied into the vote and peaked a few hours after the result was clear.
The vote comes after a week of major central bank decisions. The Fed will be sidelined but the statement will be critical. There is speculation about a BOJ move and Kuroda loves to surprise but so expect yen traders to be on edge.
Commitments of Traders
Speculative net futures trader positions as of the close on Tuesday. Net short denoted by - long by +.
EUR -67K vs -38K prior JPY +43K vs +15K prior
GBP -66K vs -33K prior
CHF -10K vs +0K prior AUD -16K vs -5K prior CAD +22K vs +26K prior NZD +9.0K vs +5.5K prior
These are some of the biggest-single week swings in more than a year. It's the first reflection of the post-NFP trade as the market rushes into the yen. Brexit worries are also hammering sterling while the spec flows shows the market was caught offside into the RBA decision.
Latest IMTs