Intraday Market Thoughts
CAD & DAX: Worse of FX & Indices
As the last of summer Bank holidays is behind us, market liquidity attempts to find normal levels in a week that will end with the all important US and Canada jobs report and the latest political trade deal dynamics between the 2 countries. On Monday, renewed worries about NAFTA and Brexit weighed on markets and the theme of the final third of the year will be how it all plays out. The US ISM manufacturing index powered to a broad-based 14-year high, amplifying the USD ascent, already boosted by falling global indices. The DAX short in the Premium Insights hit its final target at 12260 from the 12430 entry. Will discuss in this evening's video whether more declines are in store or will the 100-WMA will be respected.
Click To Enlarge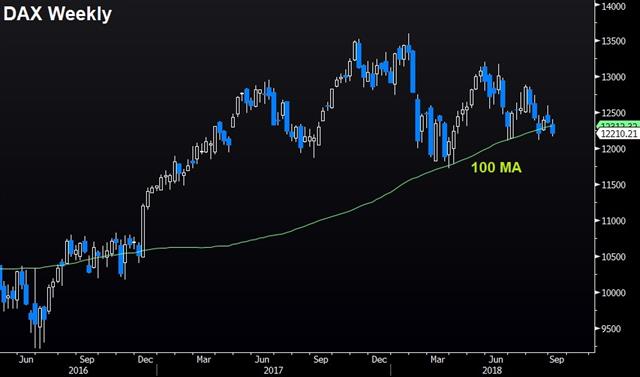 The ebb and flow of markets at the moment is largely driven by politics. Friday was a fake deadline to compete a NAFTA agreement. After negotiators reached a deadlock, the necessary Congressional notice was given anyway, leaving the three parties until the end of September to craft a final text of the deal.
That was followed by a series of anti-Canada tweets from Trump on the weekend along with a warning for Congress not to interfere. USD/CAD climbed Friday and on Monday, which was a holiday in Canada and the US. On Tuesday, the pair hit 1.3208, matching the July 20 high.
Cable, meanwhile, is increasingly at the mercy of comments from Barnier, Raab or whoever else is talking about Brexit. Last week, Barnier's comment about a special deal for Britain sent cable to its best day in months but all the gains unwound late in the week and on Monday after he rejected May's Chequer's proposal.
The other spot to watch is China. Thursday is the deadline for comments on Trump's proposal to place tariffs on virtually everything imported from China. A report last week said he intends to announce action immediately after the period ends. The market has shrugged its shoulders at the threats so far but it's difficult to believe that will continued.
Aussie briefly recovered on a brighter than expected outlook from the RBA policy statement, before succumbing to broad risk-off driven USD buying. Westpac announced higher mortgage rates last week and that sent AUD reeling because of the chance the RBA could lower rates to counteract it sometime in 2019. Recent news coverage is also littered with worries about interest-only loans in Australia resetting and crushing borrowers.
CFTC Commitments of Traders
Speculative net futures trader positions as of the close on Tuesday. Net short denoted by - long by +.
EUR -7K vs -5K prior GBP -77K vs -72K prior JPY -46K vs -47K prior CHF -45K vs -47K prior CAD -25K vs -27K prior AUD -45K vs -50K prior NZD -24K vs -25K prior
Latest IMTs