Intraday Market Thoughts
China Returns, Euro Shorts Cut Again
Chinese markets reopen after a week of holidays and that will set the tone for the week. The euro is slightly lower in early trading. Weekly CFTC data showed a second consecutive drop in euro shorts. 2 New Premium trades were issued on Thursday, bringing the total number of existing trades to 4.
Click To Enlarge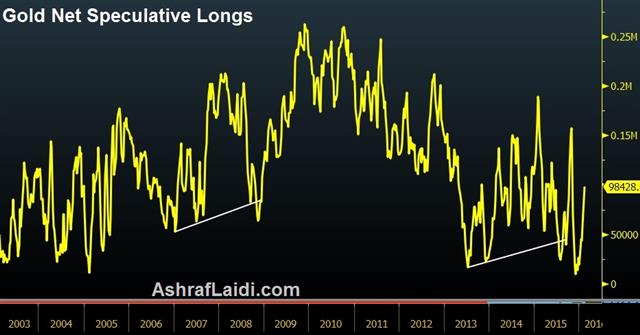 Lunar New Year holidays are complete in China and that will bring a wave of trading as markets reopen. Since the Shanghai Composite closed the Nikkei has fallen 12.2%, the Hang Seng down 5.8%, Australia's ASX down 4.2% and Korea's Kospi -3.7%.
That doesn't bode well for China but the flipside is that the S&P 500 rose nearly 2% on Friday to trim the weekly loss to 0.8%. A further wrinkle is that US and Canadian markets are closed to start the week.
It all adds up to a dangerous day of trading, especially in oil. WTI crude soared an incredible 12.3% on Friday and the reverberations will be filtering through an illiquid USD/CAD market.
On the weekend, PBOC Governor Zhou spoke with Caixin and projected calm. He dismissed speculation about capital controls saying outflows were within the normal range. He also brushed off yuan devaluation there is no basis for a continued decline.
On the data front, Japan is in focus with the preliminary reading on Q3 GDP due at 2350 GMT. The consensus is for a 0.2% contraction after a 0.3% expansion in Q3.
Commitments of Traders
Speculative net futures trader positions as of the close on Tuesday. Net short denoted by - long by +.
EUR -63K vs -87K prior JPY +43K vs +37K prior GBP -36K vs -47K prior CHF -7K vs -5K prior AUD -6K vs -26K prior CAD -52K vs -52K prior NZD -9K vs -8K prior
Euro shorts were heavily cut for the second consecutive week; the were -127K just two weeks ago. Short-covering is partly driving the euro move and a reversion to something close to flat positioning may be the signal for fresh shorts.
Act
Exp
Prev
GMT
GDP Annualized (Q4) [P]
1%
Feb 14 23:50
GDP (Q4) (q/q) [P]
0.3%
Feb 14 23:50
GDP Deflator (Q4) (y/y) [P]
1.8%
Feb 14 23:50
Latest IMTs