Intraday Market Thoughts
Dollar Dumped, Oil Jumps
Dovish Fed comments and a soft ISM non-manufacturing index contributed to a massive run on the US dollar Wednesday. The dollar suffered 200 pip losses on multiple fronts as commodity currencies surged. Asia-Pacific traders have a relatively quiet calendar to sort through the wreckage. In the Premium trades, GBPUSD was stopped out, while all existing 6 trades are currently in the green.
Click To Enlarge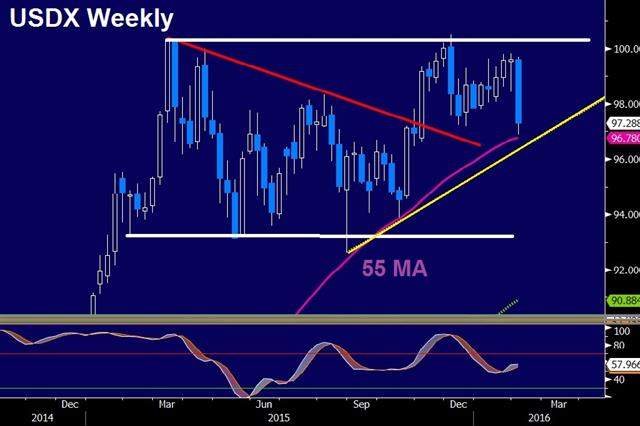 Heavy US dollar selling began when an interview with the Fed's Dudley appeared on MNI. He warned that a continued financial tightening would weigh on the FOMC in a signal they could delay hikes.
That doesn't stray far from the recent FOMC script and it shouldn't be a big surprise given Dudley's dovish bent. The dollar declines were compounded by the ISM non-manufacturing index. It was at 53.5 compared to 55.1 expected. Tellingly, the employment component slipped to a one-year low of 52.1 compared to 56.3 previously. That could spell trouble for Friday's non-farm payrolls report.
Even with that news, the scope of the US dollar selloff was a surprise. EUR/USD rallied as high as 1.1145 from 1.0900 early in the day even as German 2-year yields hit a record -0.50%.
Two things contributed to the exaggerated move. The first was the overcrowded US dollar position. It became even more one-sided after the BOJ squeezed out yen longs and has been vulnerable to softening data and weakening conditions. It may have just been today's news that was the straw that broke the camel's back.
The second was technicals. EUR/USD faced a series of January highs in the 1.0980 range and a medium-term wedge. As those levels gave way, a squeeze got underway and momentum players jumped in. It was a similar story in other pairs, including AUD/USD, which traced out an impressive outside day.
Oil was a big part of the story as well. Another huge build in US supplies was overshadowed by talk of an OPEC/non-OPEC meeting and crude rallied 9% to wipe out the bulk of the declines in the previous two sessions.
We wrote yesterday about how impressed we were than CAD was hanging tough as oil slumped. It was a signal. The recovery in oil sent USD/CAD to a six-week low of 1.3760 from 1.4100 in a massive rout.
Gold once again proved to be a reliable safe haven in the thrashing sea of 2016 markets. That will add to its allure.
Latest IMTs