Intraday Market Thoughts
Dollar Grind Finds a Way
Hawkish comments from an unexpected place helped to boost the US dollar on Tuesday. The Australian dollar was the leader on the day while the pound struggled on Brexit worries. Australian skilled vacancies, BOJ comments and US politics are in focus later. A new trade was issued in early London morning, bringing the number of existing trades to five, one in equity, three in FX and one in commodity.
Click To Enlarge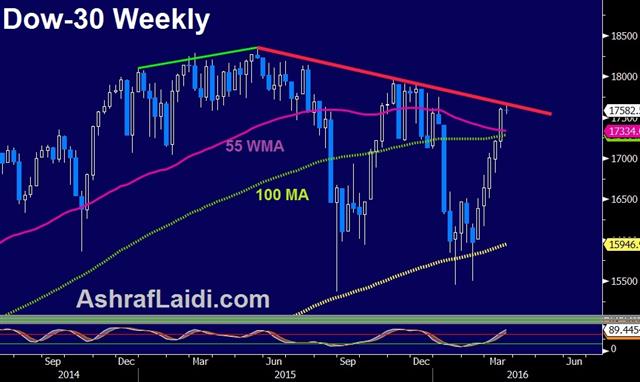 Excluding the hour after the FOMC decision, the US dollar has now outperformed the euro and pound sterling. Its losses against the yen, CAD and Swiss franc are minor.
Often times, a shock decision like the FOMC leads to continued momentum. When that momentum stalls so quickly and reverses, it's a powerful signal.
On Monday, the Fed's Williams and Lockhart pushed back with some hawkish commentary. Tuesday it was from a far more unlikely source; Chicago Fed President Charles Evans. He's is regarded as the most dovish Fed member and he said he was comfortable with two hikes this year while sounding an upbeat tone on the economy.
The US dollar climbed nearly a full cent in New York trading against the yen, touching just above 112.50. That was largely due to reduced risk aversion after the tragic Brussels attack but the broader theme of a post-Fed US dollar recovery is intact.
In order to sustain it, the data must cooperate. There was some evidence in the Richmond Fed as it rose to the highest since 2010 at +22 compared to 0 expected. That was balanced by the Markit PMI at 51.4 versus 51.9 expected.
Another standout Tuesday was the Australian dollar. RBA Gov Stevens launched a defiant round of jawboning despite US warnings but it was not enough. The Aussie sank to a three day low of 0.7550 but reversed almost a cent to 0.7642.
It will remain in focus with the Feb skilled vacancies report at 0000 GMT. The prior reading was +0.4%. Another event to watch is the BOJ's Funo speaking at 0130 GMT.
Finally, Arizona holds its primary and that's expected to help Donald Trump tighten his grip on the Republican nomination. That's something Jeffrey Gundlach warned will cause market turbulence later this year and something we will explore in the future.
Latest IMTs