Intraday Market Thoughts
Dollar Leads Month-End
The US dollar is nearing the best levels of the year on a number of fronts on a combination of fundamentals and month-end demand. Global indices are up nearly 1.7%, with the DOW30 trading above its 200-DMA for the 1st time since Oct 23 as the 25K level gets back to focus. GBP is the only currency rallying against the US dollar, recovering from Tuesday's slump following reports from S&P that hard Brexit would trigger a UK recession. The ADP report on private payrolls rose to 227K in September, exceeding expectations of 187K.
Click To Enlarge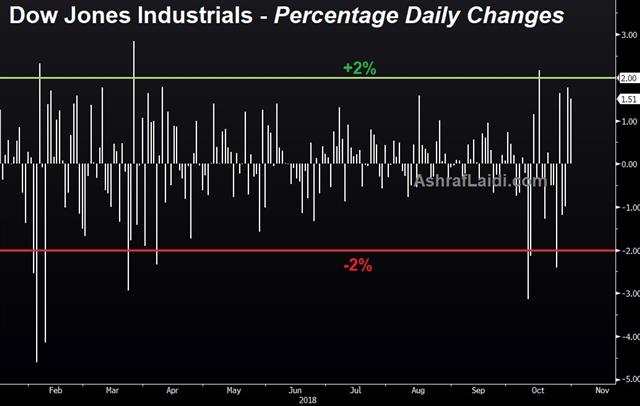 If there's a shoe to fall, it's likely to be China. Sentiment stabilized Tuesday and that led to a 41 point rally in the S&P 500. Consumer confidence data from the Conference Board was at 137.9 compared to 135.9 expected. The 18-year high was a reminder of the strength of the economy while a miss on the CaseShiller home price index was a reminder of the vulnerabilities.
Friday's release of the US and Canada jobs reports will likely confirm the continuously improving picture in both nations' labouyr markets. Volatility in indices will likely return next week when US voters get to cast their voice in Tuesday's mid-term elections. Several forecasting agencies point to the Democrats regaining majority in the House of Representative, while falling short from taking control in the Senate.
Latest IMTs