Intraday Market Thoughts
Dollar Presses Higher, Kuroda and NZ Retail Sales Next
A small stumble in the US dollar Thursday was quickly erased in another sign of a change in dollar sentiment. CAD was the top performer while AUD lagged in a sign of the broader lack of conviction in markets. That could begin to change with New Zealand retail sales and a speech from the BOJ's Kuroda coming up later. 2 new Premium trades involving a commodity currency were added today, bringing the number of open Premium Insights trades to ten.
Click To Enlarge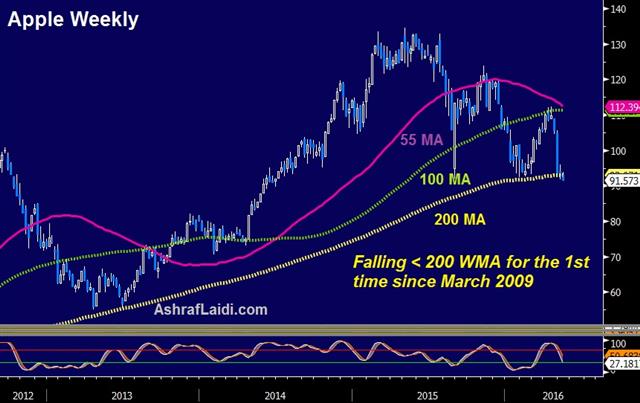 The dollar showed some life once again despite a jump in initial jobless claims. Midday rises in the euro, yen and sterling were later wiped out in a day where the overall moves were limited. Initial jobless claims rose 294K compared to 270K expected.
Fed hawks Mester and George were on the wires but the market remains comfortable in the idea that the Fed will stay on the sidelines. That theme could begin to change on Friday with the release of April retail sales.
The past three retail sales reports have disappointed and that's been a significant part of the dollar weakness this year. The Fed is confident that better jobs numbers will eventually lead to more spending but it's been slow to unfold. The consensus is for a +0.4% in the control group and that's the key metric to watch.
The market is struggling to find a theme at the moment. The BOJ is likely to fill that gap. Abe is considering more stimulus, delaying the planned consumption tax increase and an election. He will surely call on Kuroda to help as well (the BOJ isn't independent).
We will get hints about what's coming next in a 0330 GMT speech from Kuroda in Tokyo. The tertiary index is an hour later and expected to fall 0.1% in yet-another sign that the economy isn't improving.
But first, at 2245 GMT, Q1 New Zealand retail sales report is due. Top tier economic data in New Zealand is infrequent and – like the Q1 Australian CPI report – it can be a game changer. Sales ex inflation are expected to rise 1.0% q/q. That would be a solid pace and may take a bit of pressure off the RBNZ.
If the number disappoints, this week's low of 0.6713 in NZD/USD could quickly be back in focus and below that, support thins out, especially with that uptrend since January now broken.
Act
Exp
Prev
GMT
Retail Sales (APR) (m/m)
0.5%
-0.3%
May 13 12:30
Retail Sales (ex. Autos) (APR) (m/m)
0.3%
0.2%
May 13 12:30
Retail Sales (Q1) (q/q)
1.2%
May 12 22:45
Retail Sales ex Autos (Q1) (q/q)
1.4%
May 12 22:45
Initial Jobless Claims (JUN 07)
294K
270K
274K
May 12 12:30
Continuing Jobless Claims (MAY 30)
2161K
2124K
May 12 12:30
Latest IMTs