Intraday Market Thoughts
DOW30's Intraday Inflection Points
Many say
our Premium trades
are far too long term. But here's an example of what we did in the existing DOW30 Premium trade (opened at 28260 last Friday the 4th. Just for some background, DOW30 hit the low at 27190s a few nights ago and the trade remains open. Today, we told our
WhatsApp Broadcast Group
at around 11 am London (ahead of today's cash open) DOW30 would peak at 27770/27850s before returning near 27400s. The
chart below went out to the WBG 30 mins before the cash open.
Ultimately, the market did exactly that (peaked at 27830s and bottomed at 27440s) . It does
not
matter whether the day's ranges were only 270 pts or 850 pts. What matters is that we alerted members the
timing of the inflection points
. The other charts consists of the messages to the WhatsApp Broadcast Group. Don't forget Thursday's low occured around 8 pm London, similar to Thursday Sep 3rd. It all looks easy after the fact. Next week will be tricky.
Click To Enlarge

Click To Enlarge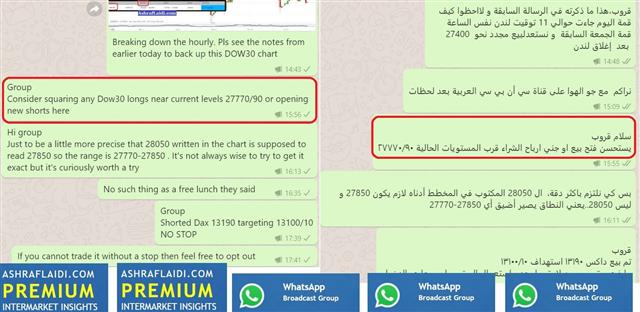 Latest IMTs