Intraday Market Thoughts
Jobs Jump Fades
Risk trades initially cheered an unexpectedly strong non-farm payrolls report but the enthusiasm didn't last
(More on the dynamics of market reaction and yesterday's key 6 charts below).
Strong US data and recovering China PMIs helped affirm the paragdigm of stabilizing growth = USD weakness
, which was anticipated in yesterday's NFP preview
here.
XAG, AUD, NZD are leading against the USD, while GBP and CHF lag. The
US is on holiday,
giving markets a chance to regroup.
Monday's long DOW30 trade in the Premium Insights' hit its 26200 target yesterday for a
670-pt gain
, while last week's Premium long in DAX at 12130 has yet to reach its final target of 12770, but Ashraf may close it before today's close.
Click To Enlarge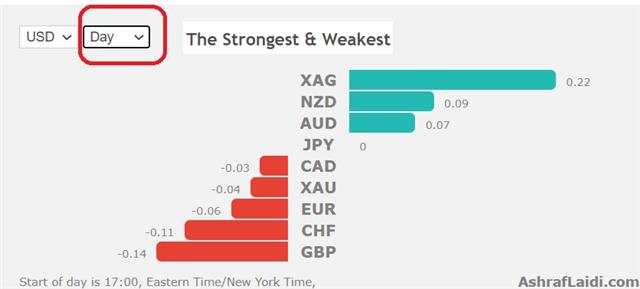 Strong US jobs & caveats
US June non-farm payrolls roundly beat expectations with 4.8m new jobs added compared to the 3.2m consensus. In addition, the prior two reports were revised modestly higher. Perhaps most impressive was the unemployment rate at 11.1% compared to 12.5% expected. The caveat that market participants had been watching surrounding that metric was in those absent from work for 'other reasons'. It had swelled recently and would have meant an additional 3 percentage point increase in May. The
BLS highlighted that many of those probably belonged in the unemployed category were estimated at up to 3%. This month, they estimated that only 1 pp of them were likely miscategorized.
Perhaps more interesting was how the market responded to the data. Initially it was strongly positive for risk assets but that faded, particularly late in the day. The tug-of-war between the virus and reopening continues and it was data from a growing number of problem states that weighed. In particular, 10,109 cases in Florida was a new record an exceed all the daily cases in the EU. The charts below were posted on Ashraf's WhatsApp Broadcast Group right after the release of US jobs report, highlighting intermarket backing of tapering risk appetite.
Click To Enlarge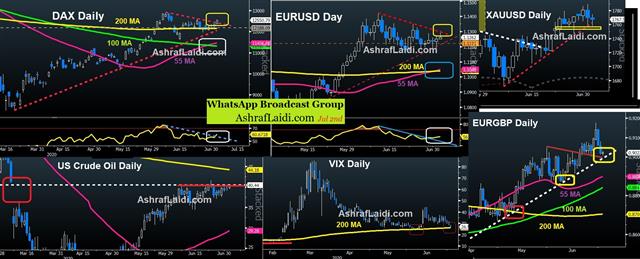 With the US headed out for a holiday on Friday, the market is likely to quiet but case numbers Friday and on the weekend will set the tone for next week.
Latest IMTs