Intraday Market Thoughts
Jobs Report Shuffles the Deck
The odds of two more rate hikes from the Fed this year rose after better wage growth in the August non-farm payrolls report. The US dollar was the top performer last week while the New Zealand dollar lagged. CFTC data showed flip in euro spec positioning. A 3rd trade in the US dollar has been posted to subscribers. A very busy week ahead, includes UK jobs (Tues), Australian jobs & US CPI (Wed), ECB press meeting/press conference/forecasts (Thurs) and US retail sales (Fri).
Click To Enlarge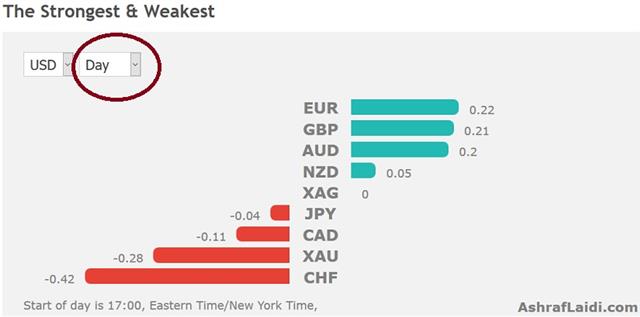 US non-farm payrolls were close to expectations but the market is entirely focused on wages and the report showed hourly wages up 0.4% m/m compared to 0.2% expected. What's more is that the gains were not limited to supervisory roles and that year-over-year gains were the most since 2009.
Markets responded by buying the US dollar in a move that sank the euro down to 1.1550 and cable more than a full cent from the highs of the day. Ten-year Treasury yields rose 6.5 bps to 2.94% and the odds of a second hike in December rose to 67% with a hike later this month remaining a near-certainty.
It was a different story in Canada where employment fell 51.6K jobs compared to +5.0K expected, albeit all the losses were in Part-Time jobs. Hourly wages there also fell to 2.6% y/y compared to 3.0% previously and 3.5% two months ago. USD/CAD jumped to 1.3175 from 1.3110. NAFTA negotiations also appear to be stalled, although the tone remains positive.
US-China tariffs remain the preoccupation of the market. Late Friday Trump said he could put an additional $267 billion in tariffs on China on short notice if needed. That's in addition to the $200B that's already under consideration and could be announced any time. On the weekend he once again railed against China in tweets and said tariffs can go away if companies like Ford and Apple build their products domestically.
CFTC Commitments of Traders
Speculative net futures trader positions as of the close on Tuesday. Net short denoted by - long by +.
EUR +8K vs -7K prior GBP -70K vs -77K prior JPY -52K vs -46K prior CHF -40K vs -45K prior CAD -26K vs -25K prior AUD -44K vs -45K prior NZD -25K vs -24K prior
The euro position flipped back to net but the timing on that one was poor with the net now underwater after Friday's 70-pip fall. The big net short on the franc is a bit of a puzzle. USD/CHF has taken a beating in the past three weeks and is at 5-month low so there's some vulnerability there (and not much near-term technical support).
Act
Exp
Prev
GMT
Consumer Prce Index (y/y)
2.3%
2.1%
2.1%
Sep 10 1:30
Latest IMTs