Intraday Market Thoughts
Low Key Powell, High Gear Appetite
USD resumes pullback as yields recover and stocks rip higher after Fed Chair Powell stuck to the script: Monetary policy was appropriate and it's too early to estimate the impact of coronavirus. China reported the lowest number of Coronavirus cases in over 2 weeks. NZD leads the pack after the RBNZ surprisingly shut the door on 2020 rate cuts. Yesterday's Premium trade is 50 pips in the green, while the below is the "before-&-after" chart of our Premium long in Bitcoin from Jan 13.
Click To Enlarge
Fed Chair Powell said there will likely be some impacts on the US from the virus but said it's too early to judge if they will be persistent or material. Odds for a September rate cut have fallen to 64% from 87% 2 weeks ago. But Cryptos continue to rally across the board as the snapshot shows below.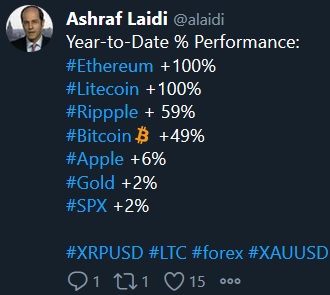 The stock market continued to vote otherwise with the S&P 500 hitting a record before paring its gain to finish the day 6 points higher. Treasury yields rose 3 basis points across the curve and the modest strength in AUD also pointed to better sentiment.
The euro touched a new low for the year but support at the September low of 1.0879 has held for far. If the strength in the US dollar continues, that's a major pivot point to watch because there is little technical support below until the 2017 lows near 1.04.
Get these Intraday Market Thoughts in your mailbox Start now.
Latest IMTs