Intraday Market Thoughts
Mansion House Redux, BoJ, China GDP Next
The defining moment so far in Mark Carney's career at the Bank of England was his 2014 Mansion House speech when he hinted (wrongly) that interest rate hikes were coming. On Tuesday, 13 months later, he dropped another bomb. We'll look at the similarities and prepare for the BOJ and a wave of top-tier Chinese data (retail sales and GDP).
The Mansion House speech tarnished Carney's reputation as a slick central banker. His hint at rate hikes coming "sooner than markets were expecting" was wrong. Inflation has proved stubbornly low and that was underscored by a flat y/y CPI reading on Tuesday.
That data pinned cable to 1.5450 but a few hours later Carney said the time to hike rates is "moving closer" in testimony to parliament. Sterling shot to 1.5600. It was given another lift by a disappointing US retail sales report then BOE dove Miles said "the time to start normalization is soon" in his final MPC speech and cable hit 1.5635.
The market hadn't been anticipating a BOE hike until May 2016 but the MPC is sounding increasingly like they want to stay ahead of the curve. Yet the BOE and Carney were wrong before. Until wages, productivity and inflation show true evidence of picking up, Carney is working more on hope than hard data.
What's different about this speech and the Mansion House episode is that cable longs aren't nearly as crowded. That speech came at the tail end of a 14-month GBP/USD rally to 1.71 from 1.50. This time, the pair is just starting to turn upwards on a series of higher lows and highs since April.
In the short term, look to Chinese economic data at 0200 GMT to steer markets. Chinese retail sales are expected up 10.2% y/y, industrial production forecast to rise 6.0% and Q2 GDP estimated up 1.6% q/q. All three are important data points but GDP is critical. A soft reading would immediately spark talk of more simulative measures from the PBOC.
Around 0300 GMT, the BOJ decision will be released. The monetary base is widely (but not universally) expected to remain at 80 trillion yen. The focus is instead on the latest growth and inflation forecasts. Nikkei reported last week that the central bank is considering cutting 2015 FY GDP forecasts closer to the consensus at 1% from the current 2.0% estimate. The larger focus is inflation and a downgrade to the 0.8% FY 2015 forecast would hint at yet another round of QE.
Click To Enlarge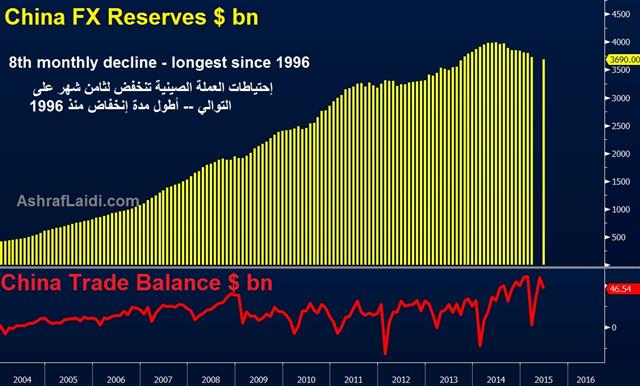 A new Premium GBP trade has been issued ahead of Wednesday's UK jobs/earnings data and Yellen's testimony.
Act
Exp
Prev
GMT
Fed's George Speech
Jul 15 0:15
Fed's Yellen Speech
Jul 15 14:00
FOMC's Mester speech
Jul 15 16:25
FOMC's Williams speech
Jul 15 19:00
CPI (y/y)
0.0%
0.0%
0.1%
Jul 14 8:30
Advance Retail Sales (JUN)
-0.3%
0.3%
1.0%
Jul 14 12:30
Retail Sales (ex. Autos) (JUN)
-0.1%
0.5%
0.8%
Jul 14 12:30
Retail Sales Ex Auto and Gas (JUN)
-0.2%
0.4%
0.5%
Jul 14 12:30
Retail Sales Control Group (JUN)
-0.1%
0.3%
0.7%
Jul 14 12:30
BRC Retail Sales Monitor - All (JUN) (y/y)
1.8%
0.0%
Jul 13 23:01
Retail Sales (JUN) (y/y)
10.2%
10.1%
Jul 15 5:30
Industrial Production (JUN) (m/m)
0.2%
-0.2%
Jul 15 13:15
Industrial Production (JUN) (y/y)
6.0%
6.1%
Jul 15 5:30
Latest IMTs