Intraday Market Thoughts
Nth American Divergence, Euro Shorts Retreat
The divergent employment fortunes in Canada and the US on Friday highlighted the ongoing breakout in USD/CAD. Last week, the Australian dollar was the top performer while the pound sterling lagged once again. Chinese trade balance is due next. On Friday, the GBPJPY short was closed at 132.50 from the 135.10 entry, for 260-pt gain. Another GBP trade remains currently in the green.
Click To Enlarge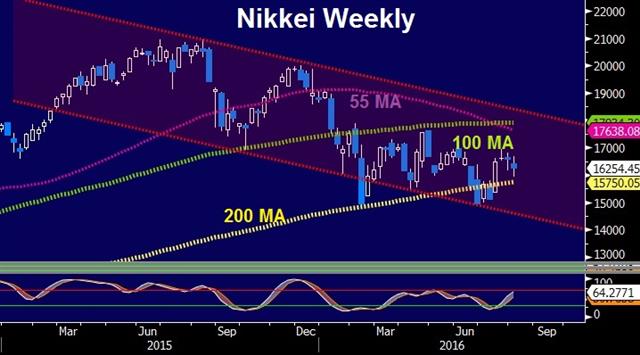 Failing commodity fortunes are a growing headwind in Canada as the country shed 71K full time jobs in July at the same time as the US added 255K overall jobs in the non-farm payrolls report. With oil treading around $40 and signs of oversupply the case for USD/CAD longs is solid. Add in the 15% surprise tax on BC foreign home buyers and one of the few sources of support for CAD is in jeopardy.
Technically, USD/CAD jumped on Friday and is 80 pips from the July high of 1.3253. That will be a level to watch in the week ahead.
But first, to kick off the week is the Japanese current account report at 2350 GMT. The consensus is for a 1.057 trillion yen surplus. The report isn't generally a market mover but all data is taking on heightened importance at the moment with the BOJ preparing to act.
The top event to watch of the day is at 0300 GMT when China releases trade balance data. A $47.6B surplus is expected but the spots to watch are the year-over-year changes in imports and exports. The consensus estimates are for a 3.0% contraction in exports and a 7.0% decline in imports. Neither are great signs up it will take a 1-2 percentage point miss to cause ripples in markets.
Also on China, data on foreign currency reserves showed a continued stabilization near $3.2 trillion. It was a bumpy month for the yuan but it appears as though officials were able to defend levels near 6.7 without expending significant ammunition.
Commitments of Traders
Speculative net futures trader positions as of the close on Tuesday. Net short denoted by - long by +.
EUR -104K vs -112K prior JPY +41.7K vs +34K prior GBP -83K vs -81K prior CHF -1.7K vs +1K prior AUD +31K vs +31K prior CAD +18K vs +23K prior NZD +0.2K vs +0.2K prior
Euro shorts scaled back from a near-extreme level but that only helped to leave fuel on the sidelines for the declines on Thursday and Friday. Yen longs built after the Bank of Japan punt.
Latest IMTs