Intraday Market Thoughts
Pivotal Week Ahead
Before we inform you how how busy this week will be, it's worth mentioning the positive technical developments in cryptos.
Cardano and Bitcoin managed to escape the selling onslaught
and made it well above their
key support levels of $1.25 and $28500 respectively
. But enthusiasm must be tempered until we break out $1.50 and $44000. Markets impressively shook off last week's terrible start and to ultimately leave G10 FX largely unchanged on the week. That series of reversals from breakdowns and doji stars underscores both the resilience of markets and the uncertainty. The heavy calendar in the week ahead sets up the potential for lasting moves in August. Ashraf tweeted the below points yesterday. Could there be something new?
Click To Enlarge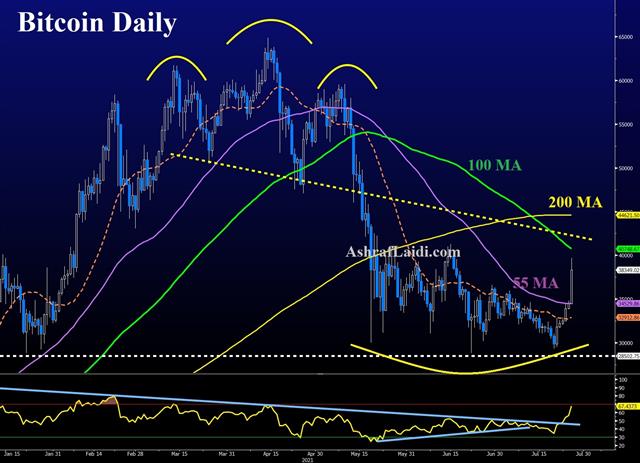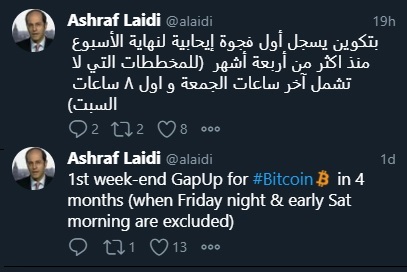 Economic data was a mixed bag on Friday and so was the market response. The US Markit services PMI disappointed at a five month low of 59.8 compared to 64.8 expected while the manufacturing numbers were slightly stronger than anticipated. In Canada, both May and June preliminary retail sales beat estimates.
G10 FX was largely flat to close out the week but US equities ran to fresh all-time highs. Those gains came without the support of higher Treasury yields or a positive impetus.
On the covid front, UK daily cases have fallen by nearly 20K in just eight days in a sharp turnaround that has puzzled modelers. In any case, the market appears to be taking it at face value. An Israeli study also drew some shudders as it showed Pfizer's vaccine just 39% effective against delta variant infections (though still 92% against hospitalizations). Again, the quality of the data was questioned with other studies showing much better efficacy.
That front bears watching in the week ahead but the main focus will be on a busy economic calendar. The main event is the Fed decision on Wednesday but we also get:
Monday:
New home sales, Dallas Fed
Tuesday: Durable goods orders, Consumer confidence, 5-year note auction
Case-Shiller house price index, Richmond Fed
Wednesday: FOMC decision, Advance good trade balance
Thursday: Initial jobless claims, Q2 prelim GDP
Friday: PCE, Final UMich consumer sentiment
On top of all that, it's the
peak of equity earnings season with all the mega-cap tech firms
set to report. When the dust settles, expect lasting trends to emerge.
Latest IMTs