Intraday Market Thoughts
Respite or Reversal?
A 2nd day of sharp rebound in US treasury yields continues to command the broadening risk-on environment in indices at the expense of JPY and USD.The recovery in bond yields off their 100-WMA raises as many questions as it answered on Tuesday. The below
chart shows familiar technical paramters
, with
yields remaining above their confluence support of 100-DMA and multi-month trend-line, while SPX touched and bounced off its 55-DMA for the 3rd time in two months.
JPY is down across the board, while JPY is only higher vs JPY as CAD and NZD are the strongest currencies of the day.
Click To Enlarge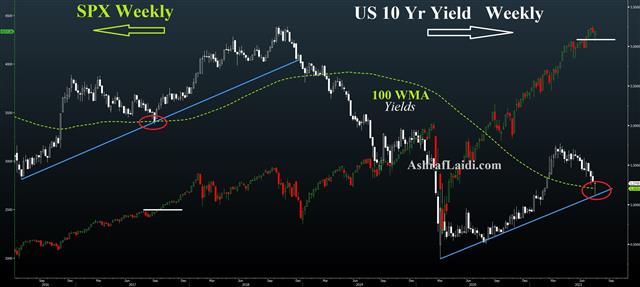 Buying the dips in risk assets has been the single best trade of the past 20 years and it as no different on Tuesday as a turn in yields helped to unwind some of Monday's fears.
Early in New York trading on Tuesday it looked like another spill could be in store as 10-year yields sank to a five-month low of 1.13% from 1.21% just hours earlier but sentiment shifted with equities recouping all of Monday's drop.
One of the triggers for the initial retreat were declines in US housing starts and building permits. Both were shy of estimates and that was an unwanted negative nudge.
Whether the rebound marks an interim or lasting bottom in sentiment will depend on covid developments. The UK case and hospitalization numbers will be particularly key in the days ahead. There are early positive signs elsewhere with cases in the Netherlands ebbing after the big reopening spike. In hard-hit Indonesia, cases are also leveling off at a high level.
With the market now focused on covid, there will be an ebb and flow in sentiment. A wild card could be a more-cautious turn from central bankers. Any hint at an easier stance will be a green light for commodity currencies, gold and risk trades.
On the technical side, we note the continued breakdown in cable and the possibility of a double top at 1.4250 with a measured target at 1.31. Even in the rebound in sentiment, GBP/USD struggled to get traction. After four days of selling, an inability to muster a stronger bounce on Wednesday would be a poor signal. EURGBP continues to show improving technicals.
Latest IMTs