Intraday Market Thoughts
Revisions Slowing the Slowdown
Today's release of US March jobs report may contain something for everyone (see Tweet below), but the upcoming slowdown in labour markets is inevitable. The 236K print in NFP hit the weakest level since December 2020 and the 4.2% print in average hourly earnings y/y was the lowest since June 2021.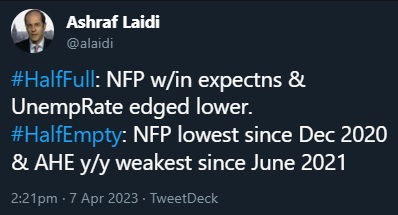 Slowing the Slowdown
The
pullback in unemployment rate should be temporary.
Here is why: Accelerating job layoffs as well as the latest upward revisions in weekly jobless claims should lead to growing momentum in jobless claims and the unemployment rate.
Layoffs announcements do not translate to an immediate loss of jobs as it takes up to two or three weeks from the announcement before actual Jon's are lost.
Employers will then have to pay severance pay, which could take another 2-3 weeks.
Only then, will laid off workers be able to file for unemployment benefits
(jobless claims), assuming they would do so. All of this reinforces the
reality of the delay between announcing layoffs and actual loss of jobs.
Don't forget the other economic reality-- Companies decide to cut jobs at the later stage of the economic cycles, i.e. well after the slowdown emerges in aggregate demand and manufacturing/services activity. Jobless claims could go from +220K to +270K within 2-3 weeks --just as the unemployment rate can jump from 3.5% to 4.0% by end of Q2.
And guess what? The pace of such developments will be rocky thanks to the phenomenon of revisions. Economic data tend to deteriorate in a non-linear fashion. Yesterday was a case in point—jobless claims appeared to have fallen, only after the prior figure was revised sharply higher, but traders focused on comparing the latest data point with consensus expectations. This is a typical aspect of evolving recessionary data—especially when media and traders' attention is placed on comparing actual vs expected data, while negative revisions of prior data points are deteriorating after the fact. Things tend to "happen fast" in markets, while macro developments tend to be interrupted, or slowed down by data adjustments and revisions, until USDJPY is below 127, 10-yr yield reaches 3.00% and gold breaks $2070.
Latest IMTs