Intraday Market Thoughts
Easing Risk Aversion
Now that the S&P500 has touched its 10% correction point from the year's highs, indices are rallying in concert for the next correctiove wane higher. We head into the new week with markets increasingly skittish about trade before activity winds down ahead of the Easter Holiday. CAD was the top performer last week while the AUD lagged in a rare divergence of commodity currencies. CFTC positioning data showed further shift away from the US dollar. The USDJPY Premium short was closed for 150-pip gain, while 3 other USD pairs remain in progress.
Click To Enlarge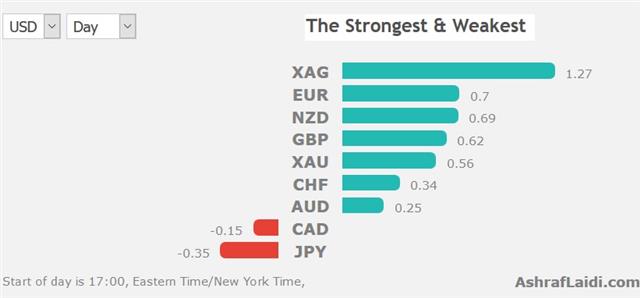 China is preparing to hit back at US tariffs, by targeting agriculture in a battle that market participants fear will escalate. There is talk the PBOC could cut the reserve requirement ratio and/or weaken the yuan. The S&P 500 fell 6% last week including a 2% decline on Friday.
In a move that got far less attention, oil climbed nearly 6% last week. Early on Monday a rocket attack from Yemen killed at least one person in Riyadh. Fears will undoubtedly continue to rise with John Bolton taking over as Trump's top national security advisor.
One good sign heading into the new week is that Monday's economic calendar is light around the globe.
CFTC Commitments of Traders
Speculative net futures trader positions as of the close on Tuesday. Net short denoted by - long by +.
EUR +133K vs +146K prior GBP +24K vs +8K prior JPY -22K vs -80K prior CAD +25K vs +19K prior CHF -8K vs -7K prior AUD +18K vs -1K prior NZD +20K vs -3K prior
These were some of the more-dramatic moves in memory, especially in the yen. A race to the exits is something we've consistently warned about during to fall to 105.00 from 113.00 at the start of the year. The shifts into the pound and the commodity currencies are also notable but the main takeaway is that specs are less-enthusiastic about the dollar.
Latest IMTs