Intraday Market Thoughts
The Bank of Confusion
Markets attention shifts to Yellen's Congressional testimony (text out at 13:30 and speech at 15:00 London) and the Bank of Canada rate decision (15:00 London), widely expected to raise rates. In June, global central banks collectively shifted to a more hawkish stance but Wednesday's Bank of Canada decision will be an opportunity to find out just how serious they are. The yen remains the top performer since 10 pm London despite recovering global indices. UK jobless rate fell while earnings stabilized. A new Premium trade has been issued on commodities.
Click To Enlarge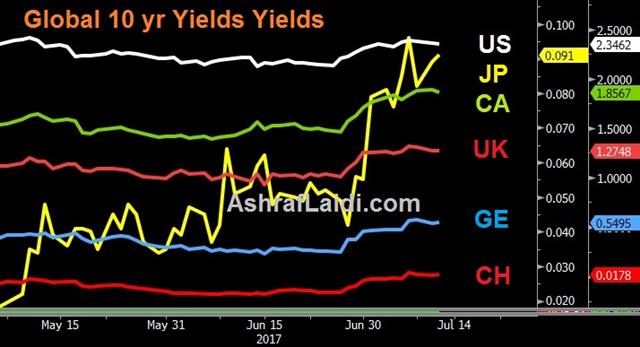 The BoC decision is due at 10:00 EST, 15:00 London. Markets are pricing in a 90% chance of a BOC hike. The clincher was late in June. At the time, the market was already pricing a nearly 70% chance of a hike and Poloz added hawkish comments. In addition, just this week, Canada's finance minister said the economy was 'firing on all cylinders'.
It would be a communication error if the BOC doesn't deliver Wednesday. That said, the BOC isn't afraid to deliver a surprise and maybe massaging market expectations at the BOC isn't a priority for Poloz. After all, we have very few rate moves to judge him and the BOC hasn't hiked in 7 years.
Another angle that strikes us as odd is how many commentators and market participants say they are expecting some kind of dovish hike, like a one-and-done or two-and-done signal. That doesn't make much sense. The BOC has rushed out this rate hike with a hastily-executed communication plan. They must feel some urgency and if they only intended to hike once or twice they could have waited another month or two.
Or course, things change quickly. The ECB and BOE have both dabbled in hawkish signals and the resulting FX rallies along with uneven economic data and political worries have given them second thoughts. So while the BOC may like the sound of a series of rate hikes now, they may have second thoughts with USD/CAD at 1.25 or 1.20.
For now, a hawkish hike is the one outcome that few market watchers are expecting and it could further squeeze USD/CAD positions that remain net long.
Pound Stabilizes after Jobs
GBP pushed higher after UK unemployment fell 4.5% from 4.6%, reaching the lowest since 1975, while the 175K rise in employent exceeded expectations of 120K. Earnings growth slowed to 1.8% from 2.1% , but when excluding falling bonuses, earnings growth rose to 2.0% from an uowardly revised 1.8%.
Latest IMTs