Intraday Market Thoughts
Trump Tweets Hold Intermarket Levels
Pres Trump has just tweeted moments ago "when the time is right we will make a deal with China" demanding that China has to give more for the US to regain lost ground. Markets up off their lows, with SPY futures +16, DOW futures +127 pts and USDJPY at 109.66. UK employment rate fell to 3.8% from 3.9%, earnings growth (pay) dropped to 3.2% y/y from 3.5%. German ZEW business sentiment was mixed. A new index trade has been issued with 4 supporting charts for Premium subscribers. The full details are covered in the Premium video below.
Every negotiation involves some element of bluff. There's always the risk the other party will walk away from the table and spoil a win-win deal. In a political deal, the domestic side is always another voice in discussions and appearing strong is as important as the real thing.
What's clear is that a US-China deal is in the best interest of both countries and both leaders. Although mutual benefit was almost always the case in the past, history is filled with innumerable miscalculations leading led to far worse outcomes than trade wars.
So here we are with the US scheduled to hit China with harsher tariffs and contemplating even more. China has announced retaliation and no talks are scheduled on either side. The market wasted no time in reacting to the 2.4% fall in the S&P500, more than doubling the cumulative loss over the past six sessions. The Shanghai Composite is down 11.5% in less than two weeks.
It could all change in an instant. The sides aren't terribly far apart. That makes trading in this environment deeply risky. If nothing changes, the latest trends will continue but the further markets fall, the large the risk of a headline-driven reversal.
Three Realities
Three facts that are troubling in the short term
: i) Despite Trump's tweeting his willingness to strike a deal, the
US has not yet scheduled a return visit
to. Mnuchin said a meeting is likely but there's not a timetable yet. ii) Trump stating he will meet Xi at the G20 is positive but the summit isn't until June 26 and that would leave businesses (and markets) to manage a month with the tariffs in place; iii) tariffs on the final $300B of goods would be scheduled for June 24.Trade will continue to dominate markets this week but economic data is worth watching.
We continue to watch 11820 on the DAX, 25380/400 on the DOW30, but the more crucial levels stand in other markets mentioned in today's video, which are the basis for today's new trade.
Click To Enlarge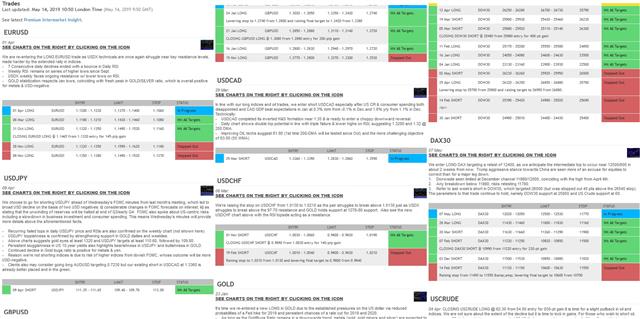 Act
Exp
Prev
GMT
FOMC's George Speaks
May 14 16:45
Latest IMTs