Intraday Market Thoughts
What Will the BoC Signal?
Wednesday's Bank of Canada decision is a bit of a placeholder because they were never expected to taper this month, but
markets will be carefully looking for signs of an October taper
in the statement. There is UNLIKLEY to be a surprise as there is no press conference scheduled for today. The US dollar is stronger across the board except against NZD and JPY. Loonie is again the weakest, but is stabilizing. A US 10-year auction could also be market moving later today.
Click To Enlarge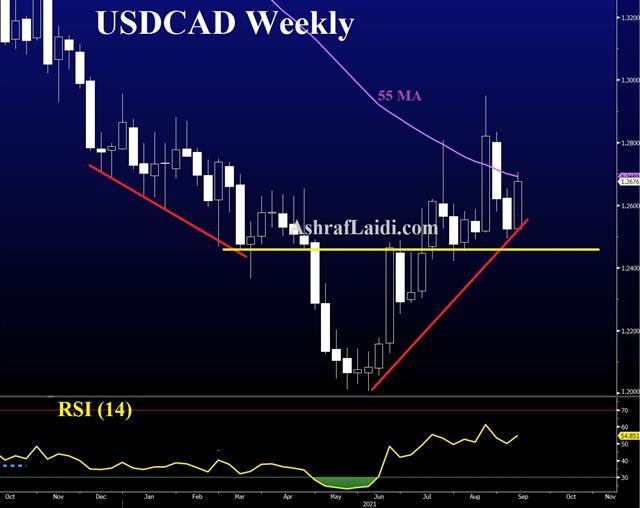 The BOC has led markets to believe it will taper every second meeting; so after tapering to $2 billion from $3 billion in July, today's meeting is expected to be a non-event meeting.
Nonetheless, this is an opportunity for Macklem to pre-emptively hint that a taper isn't coming in at the October 27 meeting, or put that squarely on the table. However the reasons for doing that are outweighed by the reasons to wait and see.
The main negative developments since July have been the delta wave in the US and the major disappointment in Q2 Canadian GDP along with the July preliminary estimate. A major drag has come from slower housing sale activity and lower exports due to automotive bottlenecks – two issues that are likely to persist.
At the same time, Canadian vaccination rates are high and the current reopening outlook is good. Perhaps most importantly, Canada is two weeks away from an election and emphasizing a slowdown and halting the taper could be viewed as political meddling.
The most likely outcome is that the BOC highlights renewed uncertainty but maintains the already-vague guidance on QE, which says that "decisions regarding further adjustments to the pace of net bond purchases will be guided by Governing Council's ongoing assessment of the strength and durability of the recovery."
Given Monday's dump in the loonie, that might be enough to draw a line under the currency for now. Note though that Macklem will also speak on Thursday and could fine-tune the message then.
In the bigger picture, the Canadian dollar was caught in a broad USD bid on Monday as Treasury yields rose. There are a number of theories on why yields have pushed up since non-farm payrolls but one is simply that it's a concession ahead of supply. $58B three-year notes were sold Tuesday, $38B of 10s are coming Wednesday and $24B of 30s are due Thursday. If demand is strong, the trend higher in yields could be short-lived.
Latest IMTs