Intraday Market Thoughts
Trading Narratives vs Stats
Quickly summarizing why the 2nd straight
quarterly GDP contraction does not qualify as recession
is due to the negative inventories factor, which not only can be revised higher later, but mainly tends to be a sign of strength and not final demand. One thing for sure, is that the US
economy is clearly slowing
and could well contract for a 3rd consecutive quarter. No need to spend any more time on this. Wednesday's 75 bp rate hike from the Fed was clearly interpreted as dovish after Powell gave up on forward guidance in favour of data-dependence.
Dovish traders
(or bond bulls) will point to Powell's readiness to slow growth in order to further bring down inflation. With the broadening signs of rising jobless claims, peaking inflation expectations and broadening yield curve inversions (more on this below),
Fed easing will surely come in Q1 2023
.
Click To Enlarge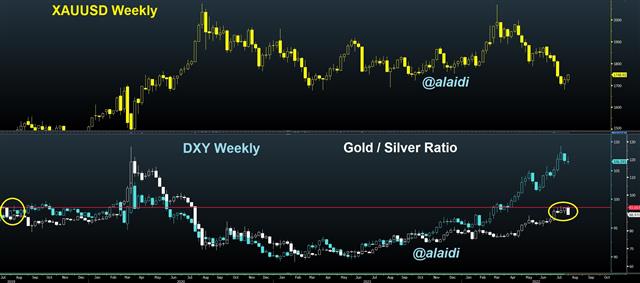 Hawkish traders (bond bears) may not disagree with the doves, but will point to an additional 75-100 bps in rate hikes in September and November, followed by a December pause. This means there is plenty of time for consolidation in USD pairs and periodic rebounds in yields, even if 3.40-50% on the 10-yr may not be seen again.
When is that recession coming?
It will come. But traders should be more concerned with the timing of Fed rate cuts (or one rate cut), rather than the official announcement of recession -- usually a futile outdated even. It's also likely that any recession will be short-lived, that by the time the NBER announces it, we'd be out of it. So when is the next rate cut? In my last post about yield curves, I indicated that out of the 4 popular measures of US yield curves, 3 have clearly entered inversions, with the exception of the 10yr/3mth spread. Since the post, the 10yr/3mth has fallen from 75 bps to 20 bps, before rebounding to 35 bps. Why is this particular yield curve measure such a big deal? Each time it inverted (fell below zero), the US entered recession 10-15 months later, which means Fed easing would start 4-6 months prior to that, thereby fitting January 2023. Or, they could wait for the March meeting with the latest dot plots.
Tell me about levels
Let's start with gold. It appears the yellow metal will show another major August inflection point, as it has done in 2021, 2018, 2020, 2019, 2018, 2017 and 2016. Before you rush to correct me, I said "inflection", not peak or trough. Or, I may be wrong and the bottom was already seen last week. Anyway, you get the idea.
The head and shoulder formation in US 10-yr yields and USDJPY becomes more apparent every day, and Wednesday confirmed that point in USDJPY.
Things we told our WhatsApp Broadcast Group
Long gold right after the Fed decision as well as NASDAQ were among the trades we shared with our WGP. The 10-yr yield neckline is making USDJPY an obvious short. But there's more to it than all that.
Latest IMTs